Steven V. Lemasters '11
December 1, 2010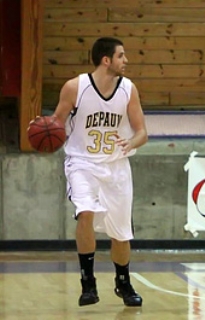 Excelling both on the basketball court and in the classroom, Steven V. Lemasters '11 has managed to balance both worlds – by taking it all in stride. According to men's basketball coach William "Bill" J. Fenlon, "You never see him sweat."

Lemasters, a mathematics major and chemistry and physics double minor, is in the pre-engineering program and eventually plans graduate study in chemical engineering. He's leading returning scorer on the men's basketball team and member of Phi Kappa Psi fraternity.

Last summer, Lemasters worked as a research assistant with Richard "Rich" C. Martoglio, assistant professor of chemistry and biochemistry. "It was my first opportunity to do research, which was a lot different than the lab work we do in chemistry classes," Lemasters says. "It was great to work closely with Professor Martoglio. It was his second summer researching this topic, and we were able to expand on it.

"Steve was investigating how various ionic liquids influence the rates of corrosion of carbon steel and copper metal," Martoglio says. "He was using an electrochemical method called linear sweep voltammetry to help do this."

"The time I spent in the lab gave me good insight into what I possibly want to do," Lemasters says. "It was a really good experience."

Lemasters doesn't think he could have had an opportunity like that just anywhere. "I could have gone to Purdue to study engineering, but I came here because of the combination of academics and basketball. I've been able to do both – play and study in the pre-engineering program," he says.

"Having basketball helps me manage my time," Lemasters says. "It completely sets my schedule. After practice, I have to go to the library. There is no other time to do it. Basketball adds structure to my life, which really helps."

If it weren't his senior year, Lemasters would be spending his last season on the bench, having fewer commitments to manage. He's recovering from knee surgery from an injury he sustained in August, and his doctors originally said it would be best to sit out this year. However, much to his relief, they've given him the green light to get back on the court and finish out his college basketball career.

Lemasters, a regional academic all-American, is modest about his achievements. He's focused on his teammates. "We have six returning seniors, and we should see a lot of playing time from those guys," he says. Though Lemasters led the team in scoring last year with 12 points a game, he says that title went back and forth all season with teammate Sean M. Haseley '12.

Thinking of his fellow seniors, he's hoping that this is the year for them. "My senior class is 0 and 3 so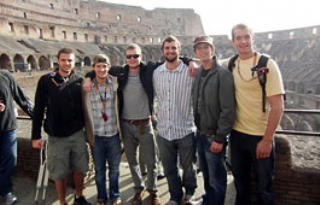 far in the conference championship. We're hoping for a deep tournament run and conference championship. We definitely want to get there and win it this year. We also have a strong freshman class. Hopefully, this will be the year."

During fall break, Coach Fenlon and the basketball team traveled to Italy to play three exhibition games and, of course, to enjoy Italy. During Winter Term when many DePauw students travel abroad, the basketball team is deep into its season and unable to participate. Wanting his team to also have that experience, Coach Fenlon made arrangements to take the team in October.

"We won two games and lost one, which was great after only two weeks of practice," Lemasters says. "Other than being on crutches the entire time, it was a blast. We saw Venice, Florence and Rome. It was an amazing experience – a really good bonding experience for the team."

Visit the DePauw men's basketball website for the 2010-11 game schedule.







Back