Indianapolis Business Journal Features TV Producer & Soccer Coach Brad Hauter '87
December 2, 2010
December 2, 2010, Greencastle, Ind. — "Indiana-based MMY Productions, an independent production company that specializes in reality TV," and its founder, Brad Hauter, are the subject of a feature in the current issue of Indianapolis Business Journal. Hauter is head men's soccer coach at DePauw and a 1987 graduate of the University. His company is responsible for programs such as Junk'd and The Greenhouse Project, which are syndicated to about 350 television stations around the world.
Sam Brattain writes, "MMY Productions formed in 2003 on the heels of 'Yard Man's Mow Across America,' in which Hauter covered 5,600 miles on a Yard Man riding lawn mower to create awareness for not-for-profit Keep America Beautiful. Hauter got the gig after beating out hundreds of applicants to be the agency's spokesperson. Lorne Michaels' Broadway Video production company took notice of Hauter and contacted him about producing a home-improvement reality show. Hauter said they were in discussions for six months, but ultimately he refused the offer because it required him to move his family from Greencastle to New York."
In the end, Hauter decided to produce Junk'd himself. "Immediately, he was faced with two challenges: First, he had only a novice's background in landscaping; second, aside from acting in a few plays while a student at DePauw, he knew nothing about production," reports IBJ.
MMY is now launching a new show, Life at the Crossroads. (at right: Hauter, holding microphone, interviews driver Mike Pfaff for the new program; photo by Perry Reichanadter/IBJ)
"The company gets most of its revenue from corporate sponsors who pay for their products to be used on the shows, a strategy that allows the company to give the shows to U.S. stations at no cost," notes the article. "Affiliate stations sell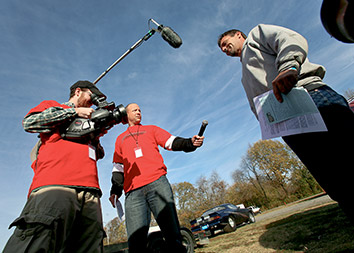 advertising that runs during the shows, and that revenue is shared with MMY. The company brought in about $1 million last year, Hauter said."
Brattain points out, "The uncertainty of trying to survive year-to-year is something Hauter is more than familiar with. He played 10 seasons of professional soccer in various indoor soccer leagues, all on one-year contracts. Each year, the team's general manager would offer him a contract with the intention of replacing him with someone better the next season. He brings the same tenacity to MMY."
Read the complete story -- "Production firm turns out TV shows without leaving state" -- at the Business Journal's website.
Learn more about Brad Hauter in this recent article.
Back