Tony Winner Alice Ripley '85 and Next to Normal Launch National Tour in LA
November 24, 2010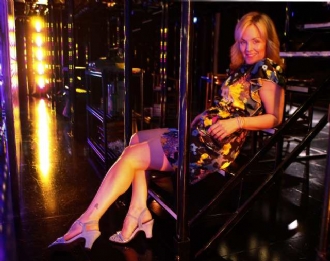 November 24, 2010, Greencastle, Ind. — "Playing Diana feels like I'm walking out into traffic," says Alice Ripley, who won a Tony Award for her portrayal of Diana Goodman in Broadway's Next to Normal. "You know that the bus is going to hit you, but you just have to step out in front of it anyway."
A piece in the Los Angeles Times notes that "after leaving the Broadway production in July, the 46-year-old performer is preparing to again inhabit Diana, the role that won her a 2009 Tony and which she has played since its first readings and off-Broadway performances. Winner of the 2010 Pulitzer Prize for drama and three 2009 Tony Awards, Next to Normal opens at the Ahmanson Theatre on Nov. 28, launching a 36-week tour in the U.S. and Canada."
Barbara Isenberg writes, "In Los Angeles, as in New York, Ripley will be onstage in nearly
every scene, sometimes lusty, sometimes comatose, plus singing a good percentage of the show's nearly 40 songs. Like the musical itself, she's alternately funny and spirited, angry and sad as she rollicks through a rock score punctuated with lyrical ballads and gentle melodies."
Ripley, a member of DePauw University's Class of 1985, tells the Times, "Diana represents a real woman, with all the ups and downs that come with that. It's so realistic, it seems like a play to me. I forget that I'm singing. I got it right away, and I knew it was something I was ready for. And right for."
Read more at the newspaper's website or in this previous article.
Back