Lee Hamilton '52 Offers Suggestions for Ending Political Polarization
December 5, 2010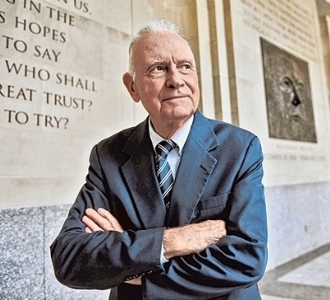 December 5, 2010, Greencastle, Ind. — According to veteran statesman Lee Hamilton, "There's a funny thing going on in our national politics right now: Everyone deplores polarization, but it just keeps getting worse." The former congressman and 1952 graduate of DePauw University states in a newspaper op-ed, "Voters are clearly unhappy with the partisanship that has taken over Capitol Hill. They tend to prefer the moderation of the political center, yet the past few elections they've produced wild back-and-forth shifts between parties. Many politicians, meanwhile, understand that getting things done requires compromise. Yet they cluster helplessly behind partisan lines. It's begun to seem as though there's no way out."
Hamilton, a Democrat who served 34 years in the U.S. House of Representatives and later co-chaired the 9/11 Commission and Iraq Study Group, says there are four areas where things need to change. For starter, he says we must "make it easier for more people to vote. The more people that vote, the harder it is for ideologically driven party activists to control elections, and the more likely it is
that the moderate center will be strengthened. Extending voting hours and making Election Day a holiday or holding it on a weekend are two ways to do this; so is lowering registration barriers. Open primaries, along the lines of what Californians recently voted into place, would allow independents and moderates to exert more influence on primaries -- and to move party nominees toward the center."
Our presidents needs to be set aside their role as the head of their political party and "focus more on making the country work," Hamilton declares. "Similarly, pressuring Congress to fix its procedures -- to put in more time in Washington during the week; to return to real conference committees that require members to compromise with one another in order to reach a final agreement on a bill; to institute more open rules and fewer restrictions on how legislation gets considered; to restore the regular and deliberative order of doing business, rejecting omnibus bills and other legislative shortcuts -- would force members to work together more, get to know and understand one another better, and ensure that the minority gets better treatment."
Hamilton adds the media to his list of reform participants. He writes, "Today they love to polarize issues.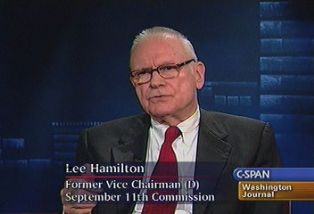 Broadcasters in particular need to recognize that along with their use of a public good -- the airwaves -- come responsibilities and obligations. Their eagerness to pander to the everyone-likes-a-good-fight instincts of their audiences, and to reject their solemn responsibility to educate fairly and fully has undoubtedly made our politics coarser, more polarized and less capable of producing progress for our nation."
The column concludes, "In the end, the change will have to come from you. Both politicians and media moguls are responsive to the market -- that is, the individual civic decisions of millions of people. We all need to find ways to convey to them that there is a right way and a wrong way to conduct the dialogue of democracy, and that those who polarize our politics are making it harder, not easier, to achieve a more perfect union."
You'll find the full text at the website of the Nebraska's Lincoln Journal Star.
Lee H. Hamilton is director of the Center on Congress at Indiana University. Access another of his recent columns here.
Back