Author/Illustrator Troy Cummings '96 to Read from Children's Books
December 7, 2010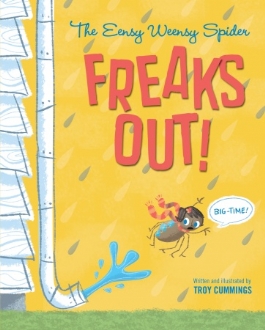 December 7, 2010, Greencastle, Ind. — Author and illustrator Troy Cummings, a 1996 graduate of DePauw University, will present a reading at the Putnam County Public Library Saturday. "Cummings, who grew up in Greencastle," will make an appearance at 10 a.m. as part of the library's "A Conversation with the Author" series, previews a story in Greencastle's Banner-Graphic.
Cummings will read from More Bears by Kenn Nesbitt, which Cummings provided the illustrations for, as well as The Eensy Weensy Spider Freaks Out! (Big Time!), authored and illustrated by Cummings, which was published by Random House in May. The latter book "follows the famed spider that went up the water spout only to be washed out," notes the newspaper.
"She has a crisis of confidence and decides she's never going to climb again," Cummings says. "Her friend convinces her to try climbing something small and she gradually regains the ability to climb. I won't ruin the ending but you can imagine where it might go."
He adds, "I think this is something I wanted to do since I was a kid myself. In grade school, art school was my favorite class and writing stories was fun. I also wanted to do comics and cartooning, that kind of stuff ... I went to school at DePauw and worked on the school paper as a cartoonist, so that was sort of my first professional illustration job where you have deadlines, and I learned about graphic design and that kind of thing. I worked for a bunch of newspapers after school in the art department, doing graphic design and some illustration. Then I've been doing regular editorial illustration for magazines and newspapers and websites. I've sort of been heading towards this until I finally got one book published," he says.
Read more at the Banner-Graphic's website and see Troy Cummings' work here.

Back