Loaded with Extras, 2010 Monon Bell Classic DVD is Set to Ship
December 7, 2010
Also: Order Your 2010 Monon Bell Classic DVD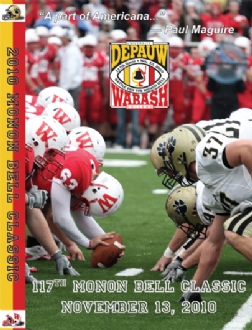 December 7, 2010, Greencastle, Ind. — The commemorative DVD of the 117th Monon Bell Classic arrived from the factory today and will begin shipping immediately. Only 300 discs have been professionally replicated; each college will have 150 to distribute and much of DePauw's stock is spoken for by individuals who pre-ordered the DVD. (at left: front cover of the 2010 DVD)
The discs are $15 each. A $4 shipping and handling charge will be added to each order, regardless of size, as well as 7% sales tax to orders shipped within Indiana. Orders can be placed via this link.
Also available are the DVDs of the 2001-09 Monon Bell Classics (supplies of past games are extremely limited; the 2008 package is a two-disc set including all 115 "Monon Memories" produced to that date). Discs of the 1977 and 1994 games were also produced.

[Download Video: "2007 Monon Memory" - 7808kb]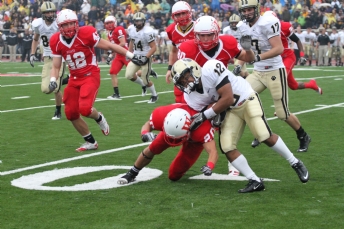 It's the tenth consecutive year that a limited edition, commemorative DVD has been manufactured for fans the annual game between DePauw University and Wabash College. The two schools collaborate on the project, with Ken Owen '82, DePauw's executive director of media relations, mastering the disc, and Jim Amidon, director of public affairs and marketing at Wabash, contributing the art for the packaging as well as creating the disc menus.

[Download Video: "2010 Monon Memory" - 7722kb]
This year's DVD contains almost 4 1/2 hours of material. In addition to the complete game, which was televised by HDNet, there's an array of bonus features, including: 2010 season highlights for both DePauw and Wabash; institutional messages from both schools; coverage of this year's game, as well as the 1987 and 1990 battles for the Bell; photo galleries from the 2010 game and a large collection of historic images from the rivalry; film of the 1961 Monon Bell game restored with commentary by Edward Meyer (DePauw '62); nineteen "Monon Memories" (1890, 1900, 1905, 1911, 1929, 1933, 1941, 1952, 1960, 1967, 1973, 1980, 1988, 1995, 2000, 2001, 2004, 2008 and 2009); and the music video for the Ballad of the Monon Bell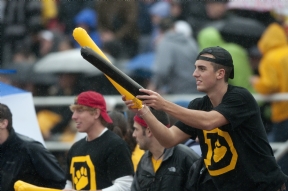 (2007 version).

[Download Video: "Ballad of the Monon Bell - 2007 Version" - 10,419kb]

[Download Audio: "Ballad of the Monon Bell - Stereo" - 2514kb]
Read about the 117th Monon Bell Classic in this summary. A photo/audio montage of the 2010 game is currently featured on NCAA.com.
Access DePauw's Monon Bell Web page here.
A complete roster of "Monon Memories" -- 116 video highlights of all the past games -- can be found here.
Back