Poem by Prof. Eugene Gloria Published in Ploughshares
December 15, 2010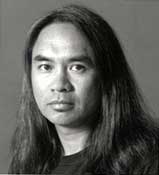 December 15, 2010, Greencastle, Ind. — A poem by Eugene Gloria, associate professor of English at DePauw University, is published in the Winter 2010-11 issue of Ploughshares. Professor Gloria's contribution is titled Trees as Soldiers March.
Founded in 1971, Ploughshares is an award-winning literary magazine published at Emerson College. Literary Magazine Review has proclaimed Ploughshares to be "a magazine that has published a good deal of what has become our significant contemporary American literature."
The current issue is guest-edited by Terrance Hayes, this year's winner of the National Book Award in poetry. It is available in

bookstores. Access the table of contents by clicking here.
Eugene Gloria is the author of two books of poems -- Hoodlum Birds (Penguin, 2006) and Drivers at the Short-Time Motel (Penguin, 2000), which was selected for the 1999 National Poetry Series and the 2001 Asian American Literary Award. He has also received a Fulbright Research Grant, a grant from the San Francisco Art Commission, a Poetry Society of America award, and a Pushcart Prize. His recent poems have appeared or are forthcoming in Seneca Review, Indiana Review, Asian American Literary Review, and the New Republic. Gloria's work is also included in the collection Between Water and Song: New Poets for the Twenty-First Century.
Back