International Year of Chemistry Celebration to Include Tribute to Percy Julian '20
December 17, 2010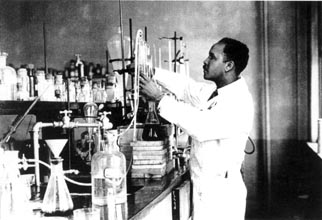 December 17, 2010, Greencastle, Ind. — A celebration of the life and work of Percy Julian, the pioneering chemist and 1920 graduate of DePauw University, will take place on February 3 in Philadelphia as part of the International Year of Chemistry (IYC 2011). The event will feature "a historical interpretation of the highly successful African-American chemist and businessman by actor James Armstead. Armstead will bring Percy Julian to life for student groups at the African-American Museum of Philadelphia and at The College of Physicians."
Read the announcement from the Chemical Heritage Foundation.
IYC 2011 is a worldwide celebration of
chemistry and its contributions to the well-being of humankind. The United Nations–designated initiative will engage the public in a year's worth of interactive, entertaining, and educational activities. Learn more here.
DePauw's Percy Lavon Julian Science and Mathematics Center (pictured at right) stands as a tribute to the great chemist whose scientific research -- some conducted on this campus -- led to the development of a low cost method of producing cortisone, as well as a synthethic drug for the treatment of glaucoma, among other things.
Dr. Julian received an honorary doctorate from DePauw (1947); was awarded the Old Gold Goblet (1950) and the McNaughton Medal for Public Service (1972); was a member of the University's Board of Trustees and helped
plan the science and mathematics center that was named for him in 1980; and Dr. Julian's family endowed scholarships at DePauw and a fund for chemistry research and lectures. (at left: DePauw's fifteenth president, Russell J. Humbert, with Percy Julian)
Percy Julian's remarkable story was told in a two hour NOVA program, "Forgotten Genius," which aired February 6, 2007, on PBS. The pioneering scientist, who died in 1975, received a flurry of attention in national media as the program aired. Previews of "Forgotten Genius" were published in dozens of newspapers, including the New York Times.
Visit DePauw's Percy Julian website by clicking here.
Back