San Francisco Opera Commissions Work Based on Book by James B. Stewart '73
December 21, 2010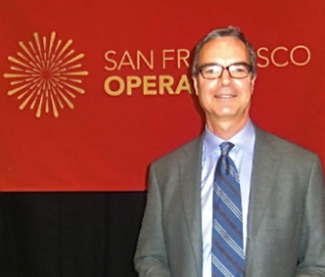 December 21, 2010, Greencastle, Ind. — San Francisco Opera has commissioned Heart of a Soldier, a new opera based on the critically acclaimed nonfiction book of the same name by Pulitzer Prize-winning journalist James B. Stewart, a 1973 graduate of DePauw University. Released in 2002, a year after the 9/11 terror attacks, Stewart's book tells the story of Rick Rescorla, who headed security for Morgan Stanley in the World Trade Center and is credited with saving countless lives on that tragic day, losing his own life in the process. The book was co-authored by Susan Rescorla, Rick Rescorla's widow.
The new opera is by composer Christopher Theofanidis with a libretto by Donna DiNovelli. Set to premiere on September 10, 2011, Heart of a Soldier will star baritone Thomas Hampson, tenor William Burden and soprano Melody Moore. Six additional performances will be presented through September 30 at the historic War Memorial Opera House. San Francisco Opera artistic adviser Francesca Zambello will direct the world premiere production, and Patrick Summers, principal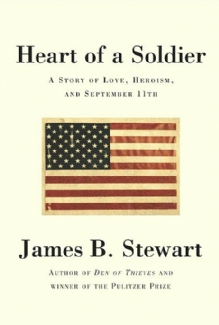 guest conductor of the San Francisco Opera, will lead the San Francisco Opera Orchestra and Chorus.
"When I read James Stewart's true story of an unsung hero of 9/11, its epic themes of a warrior's code of honor, intense bonds of loyalty, late-found love and overwhelming tragedy struck me as extremely theatrical," says Zambello. "It also takes up ideas and ideals, morals and morality in the context of modern American lives. I have always wanted to create an opera based on a real life story and was very gratified when David Gockley [general director of the San Francisco Opera] agreed to develop this work with me."
Read more in the San Jose Mercury News or here.
Access a 2002 Today interview with Stewart, in which he discusses Heart of a Soldier: A Story of Love, Heroism, and September 11th, in this article.
A member of DePauw's Board of Trustees and former chair of the group, James B. Stewart received a Pulitzer Prize for Wall Street Journal articles on the 1987 stock market crash and the insider-trading scandal. Stewart's books include Blood Sport, DisneyWar: The Battle for the Magic Kingdom; as well as Den of Thieves; Blind Eye; and Follow the Story. In 2006, he won the Loeb Award,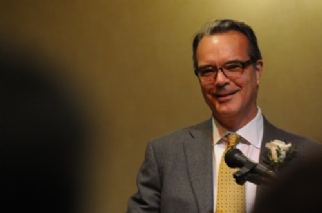 the highest honor in business journalism.
The San Francisco Examiner calls Stewart, who served as editor of The DePauw while a student in Greencastle, "the journalist every journalist would like to be." He is editor-at-large of SmartMoney and Bloomberg Professor of Business Journalism at the Columbia School of Journalism.
Jim Stewart received DePauw's Young Alumni Award in 1988, an Alumni Citation in 1988, and an honorary Doctor of Journalism degree in 1989.H e was presented with the Old Gold Goblet at DePauw's 2009 Old Gold Weekend. His acceptance speech can be heard here:

[Download Audio: "James B. Stewart '73 Accepts Old Gold Goblet" - 6715kb].
Back