More Year-End Praise for Book by Ubben Lecturer Rebecca Skloot
December 26, 2010
Also: Rebecca Skloot's Ubben Lecture at DePauw
December 26, 2010, Greencastle, Ind. — Year-end praise continues to accumulate for The Immortal Life of Henrietta Lacks by Rebecca Skloot, who visited DePauw University on September 9. In a look at 2010's top book, Chicago Sun-Times book editor Teresa Budasi writes, "My choice this year was not the kind of book I typically read, but it was without question my favorite of 2010. Rebecca Skloot's The Immortal Life of Henrietta Lacks is chock-full of science writing but don't let that scare you. Skloot weaves the tale of one of the most important developments in the history of science -- the reproduction of HeLa cells -- with the human story behind it. She breaks down the science so it's easy to understand, and the story of Henrietta Lacks, whose cells are still used 60 years after her death for scientific research, will break your heart."
David Ulin, book editor for the Los Angeles Times,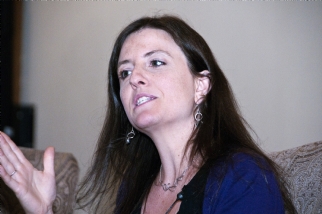 includes the book in his list of the year's ten best books. "More than a decade in the making, Skloot's first book is both biography (the story of Henrietta Lacks, an African-American woman whose cells are still used in medical research half a century after her death) and social history, an investigation of the intersection between medical research, racial politics and family life," he writes. (at right: Skloot speaks at a student forum at DePauw; below left: Skloot delivers an Ubben Lecture to an overflow crowd in Moore Theatre; bottom: Skloot signs books following her DePauw presentation)
"This year's Heartland Prize for nonfiction went to Skloot for her debut book," notes Elizabeth Taylor, literary editor for the Chicago Tribune. It is a richly layered medical detective story about a woman killed by cancer, who lives on through her cancer cells that refuse to die and, as a result, have become medicine's holy grail. But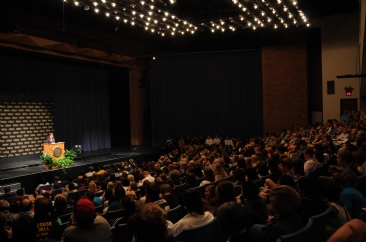 Skloot's book is more than a story of miraculous cells. It's a complex tale involving race, faith, poverty and bioethics spanning the last 60 years."
Skloot's book was also cited on the New York Times' list of 2010's ten best books and on another compiled by Salon's Laura Miller, who wrote the The Immortal Life "masterfully reflects the tricky intersection of science and society and an American medical establishment responsible for both astonishing triumphs and lamentable failures." Amazon.com ranks the book as the year's best.
More year-end praise is covered in this recent article.
In November Rebecca Skloot was awarded the Wellcome Trust Book Prize, which is open to works of fiction and nonfiction published in the U.K. with a theme of health and/or medicine. Read more in this story.

[Download Video: "A Really Special School" - 1,304kb] "This is
a really special school," Skloot told her DePauw audience. "You know, I visit a lot of schools and one of the things that struck me immediately when I got here was it feels like a very familial place -- you guys feel like family to each other. And there's this comfort level here, I feel like I just walked into your living room. So it's been really fun to just sort of see that around campus and to watch everybody interact and to get great questions from students."
Established in 1986 through the generous support of 1958 DePauw graduates Timothy H. and Sharon Williams Ubben, the Ubben Lecture Series was designed to "bring the world to Greencastle." To view a complete roster of Ubben Lecturers -- which includes links to video clips and news stories -- click here.
Back