#11 DePauw Takes Amy Hasbrook Title with 85-47 Win over John Carroll
December 29, 2010
Rose-Hulman/Ripon Box | DePauw/John Carroll Box | Tournament Site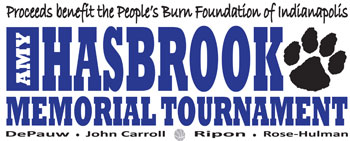 December 29, 2010, Greencastle, Ind. — DePauw improved to 9-2 on the season and captured the Amy Hasbrook Memorial Tournament championship with an 85-47 win over John Carroll. The Blue Streaks dropped to 7-4 with the loss.
The Tigers, ranked 11th by D3hoops.com and 16th in the USA Today/ESPN Coaches' Poll, used an early 8-0 run capped by back-to-back three-pointers by Kate Walker and Lauren Goff to take a 21-10 lead. The first-half margin reached as many as 20 and DePauw went to the break with a 44-26 lead.
DePauw put the game away in the second half as the Tigers held John Carroll scoreless over a seven-minute stretch and scored 17 straight to take a 71-33 lead with 9:16 remaining.
Goff, the tournament most valuable player, led the Tigers with 14 and hits 4-of-9 three-pointers. Katie Mathews joined her on the all-tournament team and finished with 13 points, six rebounds, five assists and no turnovers. Alex Gasaway came off the bench for 13 points and eight rebounds, while Ellie Pearson posted a double-double of 10 points and 11 boards. Kate Walker also shared the assist lead with five.
Emilee Ritchie paced John Carroll with 15 points and Katie Knox grabbed seven boards. Ritchie and teammate Lee Jennings earned all-tournament honors.
DePauw shot 47.1 percent from the field and hit 7-of-16 from beyond the arc, while the Blue Streaks connected on 33.9 percent from the floor. John Carroll entered the game averaging 7.3 three-pointers made per game, but failed to connect in 16 three-point attempts.
The Tigers held a 50-29 edge on the boards and hauled down 22 offensive rebounds in the win.
Rose-Hulman took a 71-54 win over Ripon in the third-place game as Lauren Meadows led the way for the Engineers with 17 points and Donna Marsh added a double-double of 15 points and 12 rebounds along with four blocks.
Alisa Dickerson added 13 points, eight rebounds and eight assists and Kelsey Ploof added 12 points. Katie Raymond paced Ripon with 22 points, while Emily Meyer grabbed eight rebounds. Meadows and Raymond rounded out the all-tournament team.
The Engineers held a 53-49 lead with just under seven minutes left and closed the game with an 18-5 run.
DePauw returns to Southern Collegiate Athletic Conference play on Sunday, January 2, when it hosts Centre at 1 p.m.
Follow DePauw Athletics on Twitter | Become a Fan of DePauw Athletics on Facebook
Back