Underdawgs Recounts Historic Season & DePauw Connections of Coach Brad Stevens '99
January 2, 2011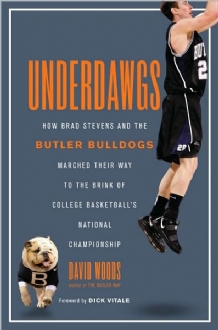 January 2, 2011, Greencastle, Ind. — The recently-published book, Underdawgs: How Brad Stevens and the Butler Bulldogs Marched Their Way to the Brink of College Basketball's National Championship, includes a number of references to DePauw University, where Stevens received his undergraduate degree in 1999. Written by David Woods, the Simon & Schuster release tells the story of Butler's 2009-10 season, in which the Bulldogs became the smallest school in 40 years to reach the NCAA championship game, a contest they almost won in thrilling fashion.
"DePauw has high academic ratings and a prominent faculty," Woods writes. "Alumni include actors, authors, musicians, journalists, governors, congressmen, and Fortune 500 CEOs. Notable graduates include baseball commissioner Ford Frick, Urban League President Vernon Jordan Jr., Vice President Dan Quayle, statesman Lee Hamilton, Angie's List founder Angie Hicks, ESPN founder Bill Rasmussen, and authors Barbara Kingsolver and James B. Stewart." A star athlete in high school, "the total package was attractive to Stevens," the author writes. "At DePauw he was a Management Fellow, in an honors economics program whose graduates often go on to study business at Stanford or law at Harvard."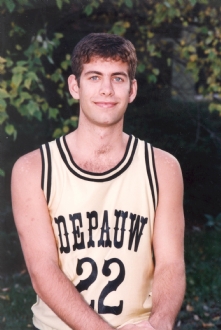 The book's early pages tell of how Stevens took a management job at Eli Lilly & Co. immediately after graduation from DePauw an appeared to be on a path toward corporate success.
"One of the things that happens is, you get in a situation like this where you're around a lot of high-achieving guys," Bill Fenlon, men's basketball coach at DePauw, tells Woods. "There's this kind of expectation that you're going to be the master of the universe in some way. That's probably the reason that Brad wasn't immediately drawn to the coaching thing."
The book also quotes Mary Dixon, professor of economics and management, who advised Stevens, who was one of her students, "Brad, if you want to do anything, you'd better start doing things you don't like," words that Stevens says still help him.
A year out of college, the coaching itch was too great for Stevens, despite the iffy prospects. After a short tenure, Stevens resigned his Lilly job and took a volunteer coaching post, planning to wait tables at Applebee's to pay his bills. Before he could start, a paid job on the Butler staff opened. Stevens was made an assistant basketball coach a year later, in 2001, and -- at age 30 -- was named head coach on April 5, 2007, after Todd Lickliter took the top job at Iowa.
Also noted throughout the book is Tracy (Wilhelmy) Stevens '99, the wife and classmate of Brad Stevens.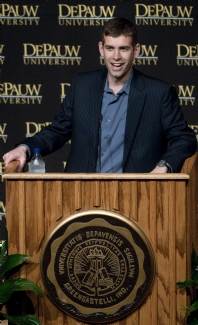 The book chronicles the Bulldogs' historic season, which began with an exhibition game versus DePauw, and the road to the Final Four. Included is an anecdote involving Stevens' decision to foul Michigan State late in the national semifinal game, relying on the wisdom of Fenlon, who has co-authored a paper on the subject. The two coaches exchanged text messages after the game, which sent Butler to the national championship game against Duke.
Woods also cites this website as a place where some information for the book was gleaned.
Learn more about Underdawgs, and order the book, at Barnes & Noble.com and Amazon.com.
On April 13, 2010, Brad Stevens returned to his alma mater to deliver the Robert C. McDermond Lecture. You're also invited to access an online profile of Brad Stevens.
Back