Arlington Nuetzel '69 Publishes The Bower Bird and Other Stories
October 26, 2010
October 26, 2010, Greencastle, Ind. — Arlington Nuetzel, a 1969 graduate of DePauw University, has published The Bower Bird and Other Stories.
"Here is a collection of short stories that will tickle you, move you and will make you cry," notes a synopsis of the book. "Arlington Nuetzel's fertile imagination gives us drained lakes, haunted cabins, otherworldly beings, pals hunting in the Ozarks, a treasured sleeping child, a doting grandfather and much more. Immerse yourself. And pity,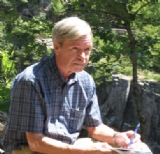 then cheer for the Bower Bird. You'll soon know why."
John A. Nuetzel Jr. is an instructor of writing and lives in the Missouri Ozarks and the Arkansas Delta. His other books include The Low January Sun; Murder in March Commons; and 2027, New Madrid Missouri.
Learn more about his latest work by clicking here.
Back