Jazz Quartet Bleu Django Here February 15
January 8, 2011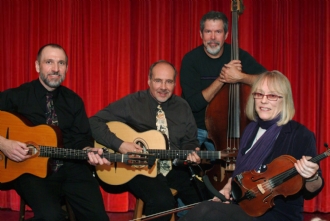 January 8, 2011, Greencastle, Ind. — The inviting sounds of the acoustic jazz quartet Bleu Django will come to DePauw University on Tuesday, February 15, in a free concert presented by DePauw's Performing Arts Series. The program begins at 7:30 p.m. in Thompson Recital Hall, Green Center for the Performing Arts (605 South College Avenue).

Bleu Django specialize in arranging and performing music in a style popularized by Gypsy guitarist Django Reinhardt and Parisian violinist Stephane Grappelli in Paris in the years preceding World War II. Forsaking the more common horns/drums/piano jazz ensemble, Reinhardt and Grappelli forged a sound built around acoustic string instruments such as guitars, violin and upright bass. In 1934 the duo added Reinhardt's brother Joseph on second guitar, and along with yet a third guitarist and a bassist they formed the original Quintette du Hot Club de France, one of the only jazz bands in the world playing jazz on only acoustic string instruments. Many of the Hot Club's original compositions have since become jazz standards, and although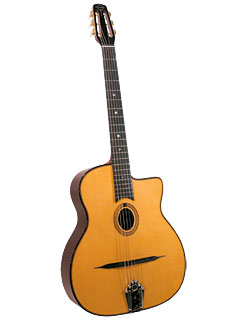 their style was eclipsed by later jazz styles such as bebop and then rock and roll, in recent decades the Reinhardt/Grappelli sound has enjoyed a revival in popularity.

As with the musicians in other ensembles modeled after the original Hot Club combo, each of the four members of Bleu Django brings his or her own musical influences to bear in creating a sound which honors the Reinhardt/Grappelli tradition but also builds on it.
Like many other Django Reinhardt adherents, lead guitarist Daryl Jones comes out of a bluegrass tradition and is a champion contest flatpicker who also counts Indiana native Wes Montgomery among his jazz guitar influences.
Bleu Django's other guitarist, Bob Foster, was heavily influenced at a young age by the eclectic country and pop guitar innovator Chet Atkins, who Foster eventually met and traveled with. Foster is also the author of the popular guitar manual The SuperChord Guitar System.
Coming from an entirely different musical background, violinist Carolyn Dutton is classically trained and is a veteran of the Dayton Philharmonic Orchestra and other smaller classical ensembles based out of New York City, where Dutton worked for three decades.
Rounding out the quartet is upright bassist Hunt Wiley, whose father was a jazz cellist. Wiley's musical upbringing also includes tr
aining on violin and piano, which he continues to play in other settings.

Among many other prestigious venues, Bleu Django has performed at the Jazz at Chautauqua festival in New York, where they were joined on stage by the celebrated Django-style guitarist Howard Alden; at the Indiana University Art Museum's "Jazz in July" series; and at the Fiddlers' Gathering at the historic Tippecanoe Battleground near West Lafayette, Indiana, an annual summit for North America's finest fiddlers and string bands of all styles. The group also performed as part of DePauw's "Jazz at the Duck" series.

For the DePauw concert, doors will open at 7 p.m. and seating is first come, first served. For more information about this concert or other DePauw Performing Arts Series events, contact Ron Dye at (765) 658-4689 or by email at rdye@depauw.edu .
Back