Prof. Jay Hosler '89 Authors Evolution: The Story of Life on Earth
January 5, 2011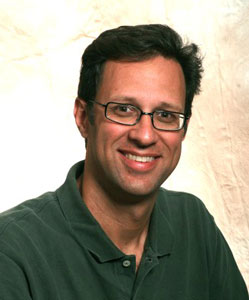 January 5, 2011, Greencastle, Ind. — Jay Hosler, associate professor of biology at Juniata College and 1989 graduate of DePauw University, is the author of Evolution: The Story of Life on Earth. With illustrations by Kevin Cannon and Zander Cannon, the book features "the same amusing characters as those found in Mark Schultz's The Stuff of Life: A Graphic Guide to Genetics and DNA," according to Publishers Weekly. The review states, "Hosler's sequel does for natural selection what its predecessor did for human genetics."
The publisher's synopsis states, "Evolution, the most accessible graphic work on this universally studied subject, takes the reader from earth's primordial soup to the vestigial structures, like the coccyx and the male nipple, of modern humans. Once again, the award-winning illustrations of the Cannons render the complex clear and everything
cleverly comedic. And in Hosler, Evolution has an award-winning biology teacher whose science comics have earned him a National Science Foundation grant and an interview on NPR's Morning Edition."
Learn more, and order a copy of the book, at Barnes & Noble.com and Amazon.com.
An excerpt of Evolution is also featured on Scientific American's website.
Jay Hosler served as DePauw's Lee G. Hall Distinguished Visiting Professor of Biology at the University during the 2007-08 academic year. The professor's comics have been featured in Science, the New York Times, Chronicle of Higher Education, NPR's Morning Edition and Discover magazine. You'll find more information in this previous story.
Back