Professor Jeanette Pope
January 4, 2011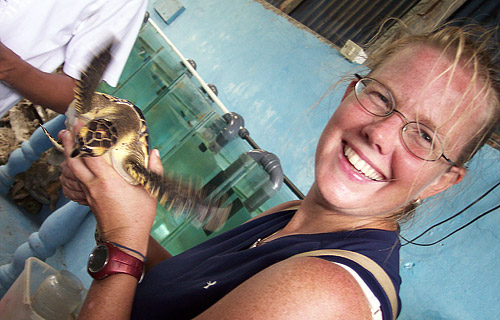 Four years ago, Associate Professor of Geosciences Jeanette K. Pope heeded Pulitzer Prize-winning biologist E.O. Wilson's call to do environmental work in the world's most biologically diverse regions. She helped to create an annual Winter Term In Service that has sent dozens of DePauw students to Costa Rica to work on sustainable farms and clear beaches for nesting sea turtles.
Pope's latest project, however, is only a short trip from her front door.
Next year, Pope will begin a water quality study of Putnam County, Ind., home to DePauw. It would be a massive task for a single person, but she won't be alone. She is enlisting the help of children from local schools and youth groups to collect samples from streams across the central Indiana county.
"A Boy Scout troop might want to earn a merit badge, or a science teacher might want to do some field work with his or her students. The point is that we can get children involved in local environmental issues," Pope says.
Pope plans to develop a local chapter of the Hoosier Riverwatch Program to coordinate the small army of youth research assistants. She'll also train a small team of DePauw students to supervise the different groups during the sampling process. The service learning aspect of the project, Pope says, is not only a major component, but also part of the DePauw experience.
"I think it speaks to the DePauw ethos of being very interested in service," she says. "A large portion of our students are interested in reaching out and addressing problems that are beyond them."
Nearly 60 percent of Putnam County is used for agriculture, increasing the risks associated with fertilizers and pesticides entering the local watershed. And these problems don't end at the county line. Chemicals travel from local streams into rivers, and from rivers into larger bodies of water. In the Gulf of Mexico, an 8,000-square-mile "dead zone" has formed as a result of the agricultural runoff carried by the Mississippi River.
"Geochemically, it's a fascinating problem," Pope says. "Until about 100 years ago, getting enough nitrogen in the soil for farming was a problem. Since then, we've found ways to get it using fossil fuels, and crop yields have increased. Now we're seeing the consequences."
Pope began teaching at DePauw in 2002. Her interest in geology and environmental issues was first sparked in a class at Bucknell University, where she worked in two undergraduate programs involving water chemistry. She discovered her passion for teaching while working on a M.S. degree in geochemistry at the Colorado School of Mines, and she continued her studies at Virginia Tech, where she received a Ph.D.
While at DePauw, Pope has helped develop classes for the environmental geoscience major, including Environmental Geology, Introduction to Environmental Science Seminar, Geochemistry, and Applied Hydrogeology. She has also been actively involved in the Women in Science (WIS) program and was the program's coordinator from 2006-09. During that time, she welcomed many visiting women scientists to campus and helped plan and run a WIS Reunion in 2008.
Back