Leave the Analysis to Commentators, Prof. Jeff McCall '76 Advises CBS Anchor
January 5, 2011
January 5, 2011, Greencastle, Ind. — Jeffrey M. McCall, professor of communication at DePauw University, wonders "whether CBS' most visible news anchor should be engaging in social commentary or devising entertainment programming." In an essay for the Indianapolis Star today, Dr. McCall examines comments recently made by Katie Couric on the Internet, in which she stated that a "Muslim version of The Cosby Show" could be the solution to changing American's attitudes toward Muslims, who are sometimes subjected to "seething hatred."
"If Couric wants to do commentary, she should leave the anchor desk and do a commentary program," asserts McCall. "CBS News is already perceived in many polls as agenda driven. Couric should stick to anchoring news and leave social analysis for the commentators. Next, Couric's assertion about 'hatred . . . for all Muslims' is surely overstated.
As a reporter, she should provide substantiation for such claims and fine tune the discussion. Are Americans insensitive to all Muslims generally, or do they condemn extremists? Likely, it is the latter. Finally, suggesting a sitcom to address such a complex matter is quite simplistic. The Cosby Show was a successful program, but its impact in addressing the nation's race issues should not be exaggerated."
The professor concludes, "Couric is right that Americans could stand to know more about Muslims. Instead of dumping that duty on the sitcom program schedule, maybe she should use her role as the face of a major network news division to accomplish that goal through effective news coverage."
Read more at College News.org.
Jeff McCall is a 1976 graduate of DePauw and author of Viewer Discretion Advised: Taking Control of Mass Media Influences.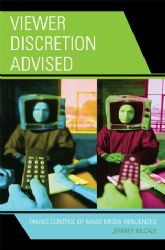 Last week he was quoted in a story in the UK's Guardian on the imminent end of Oprah Winfrey's daily television program and the Indianapolis Star published the professor's op-ed on legislation that is designed to protect TV viewers from loud commercials. On December 20 Dr. McCall was quoted in a widely distributed Dow Jones Newswires story on the future of American Idol.
Frequently called upon by major media outlets to discuss media matters, Professor McCall has been cited in articles published by more than 100 newspapers.
Source: Indianapolis Star
Back