Dan Quayle '69 and His Son Share "Extraordinarily Special Moment"
January 5, 2011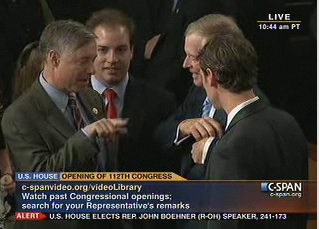 January 5, 2011, Greencastle, Ind. — "In some ways it is more special" than taking the oath of office as vice president, Dan Quayle told USA Today after watching his son, Ben, be sworn in as a congressman today. Ben Quayle, who will represent Arizona's 3rd District, is 34 years old and "was born three days after Quayle was first elected to Congress in 1976," writes Catalina Camia. (at left: C-SPAN screen grab of the Quayles on the House floor)
A 1969 graduate of DePauw University, "The elder Quayle, of course, served as President George H.W. Bush's second in command. After the House swearing-in ceremony (Wednesday), the former vice president could be seen chatting with Republican lawmakers and introducing his son to some old friends."
The younger Quayle said that having his father on hand made it an "extraordinarily special moment."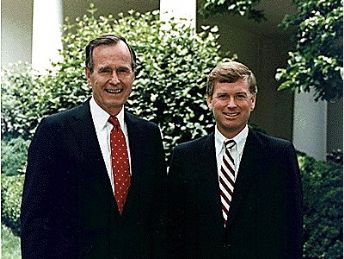 Access the item at the newspaper's website.
Dan Quayle served as a U.S. Congressman and Senator before becoming America's 44th Vice President in 1989. He is now chairman of Cerberus Global Investments. A member of DePauw's Athletic Hall of Fame, Quayle captained the Tiger golf team. On October 26, 1990, the vice president was awarded his alma mater's McNaughton Medal for Public Service. On May 22, 1982, as a United States Senator, Quayle provided the commencement address at DePauw.
Back