Vernon Jordan '57 Recalls a "Pivotal Day in Civil Rights History" on NPR
January 6, 2011
January 6, 2011, Greencastle, Ind. — "Today marks a pivotal day in civil rights history. Fifty years ago, January 6th, 1951, U.S. District Court Judge William Bootle ruled that the University of Georgia had to admit two African-American students," reports NPR in a piece that includes comments from Vernon Jordan, the legendary civil rights figure, presidential adviser and 1957 graduate of DePauw University. He was interviewed by Michael Martin on Tell Me More.
Jordan, was a member of the two students' leagl team and escorted them to the admissions office three days after the judge's ruling. He tells the program, "I think, first of all, you have to remember what the state of Georgia was in 1961. For black people, it was a mean place and racism abounded. And the real story to be remembered is the courage and determination of these two young people to prove to the Georgians and to the world that there was something called the 14th Amendment and the Equal Protection Clause therein, and they pursued it and they won it, not just for themselves but for all of the other young black people and white people who came to know each other and be friends, to play football together, to debate together, to enjoy the academic experience together. And so I think you have to remember what it was. But then I think you have to remember what it took on the part of these two young people to survive it, and survive it winningly."
Jordan is joined on the show by one of the two students, Charlayne Hunter-Gault, who is now an award-winning journalist.

Access the program online by clicking here.
A close adviser to former President Bill Clinton, Vernon E. Jordan Jr. is senior managing director of Lazard LLC and senior counsel at Akin Gump Strauss Hauer & Feld LLP. He serves as an advisory member of DePauw's Board of Trustees. (at left: Jordan talks with DePauw students during a 2001 campus visit)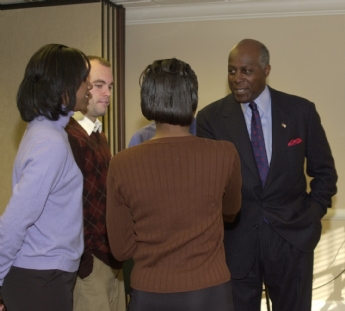 In December 2009, Jordan was one of eight individuals presented with the Du Bois Medal, the highest honor awarded by the Harvard University Institute of Politics' W.E.B. Du Bois Institute. He's also been honored with the Spingarn Medal, the NAACP's highest honor for achievement, the Trumpet Award and his alma mater's Old Gold Goblet.
On June 9, 2007, Vernon Jordan delivered the silver anniversary address at his Class of 1957's 50th reunion.
He is the author of Vernon Can Read!: A Memoir and Make It Plain: Standing Up and Speaking Out.
Back