LA Times Praises New Book by Douglas Frantz '71
January 9, 2011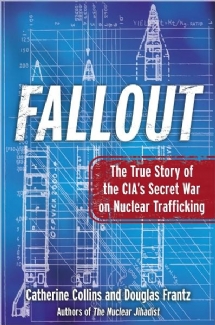 January 9, 2011, Greencastle, Ind. — "Anyone concerned about nuclear proliferation or interested in the world of espionage will want to read Catherine Collins and Douglas Frantz's provocative new book, Fallout: The True Story of the CIA's Secret War on Nuclear Trafficking, which tells a fascinating story whose characters come straight out of a spy novel," opines Brian Michael Jenkins in today's Los Angeles Times. Frantz is a 1971 graduate of DePauw University.

Released last week, the book examines efforts by U.S. and British intelligence to take apart the global nuclear network of Pakistani scientist A.Q. Khan. Jenkins writes, "Even today, most of those connected with Khan's nuclear black market, including Khan himself, are free men, and intelligence officials continue to have different views about when the plug should have been pulled. The authors challenge former CIA Director George Tenet's assertion that the U.S. moved in at the 'optimal moment.' Even with the

benefit of hindsight, it is hard to know what might have happened."
Access the complete review at the Times' website.
Doug Frantz is the former managing editor of the Los Angeles Times and has been a reporter for the New York Times and the Chicago Tribune. He was part of a team which was awarded the Pulitzer Prize and is a two-time Pulitzer Prize-finalist. He is now chief investigator for the U.S. Senate Foreign Relations Committee.
Learn more about Frantz and Fallout in this story.
Back