DePauw Tops Sewanee for SCAC Weekend Sweep
January 9, 2011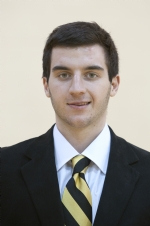 January 9, 2011, Sewanee, Tenn. — DePauw held host Sewanee to just three points over the game's final 5:50 and rallied for a 60-55 Southern Collegiate Athletic Conference win. The Tigers improved to 8-6 overall and 3-2 in the SCAC, while Sewanee dropped to 5-7 overall and 1-4 in conference play.
DePauw took an early seven-point lead and led by as many as eight on a couple of occasions in the first half, but Sewanee finished the half with a 13-3 run to take a 29-27 halftime lead.
Sewanee extended that margin to 38-31 with 15:37 remaining before DePauw scored eight straight to regain the lead. The hosts held a 52-48 advantage after Brett Bouldin's three-pointer with 5:50 left.
Michael Wilkison (pictured) hit back-to-back threes to give DePauw a 54-52 lead before Sean Haseley and Wilkison each made two free throws to push the Tigers' lead to six with just 10 seconds left.
Wilkison paced the Tigers with a career-high 21 and hit 5-of-8 three-pointers. Haseley followed with 13, while Joe Bergfeld added 11 and Drew Wills 10. Haseley led DePauw with eight rebounds as the Tigers held a 29-20 edge on the boards.
Anvil Nelson paced Sewanee with 15 points and Tyler Brown added 11.
DePauw returns to action on Friday, January 14, when it hosts Millsaps at 8 p.m.
Follow DePauw Athletics on Twitter | Become a Fan of DePauw Athletics on Facebook
Back