Polls show Americans' dissatisfaction with Congress is at record lows. According to Hamilton, "there's a broad -- indeed, bipartisan -- sense that their decisions have not met the nation's needs. Yet I'd like to suggest that our attention needs redirecting. You never want to let our political leaders off the hook -- not in a democracy-- but if you want to make change in the political realm, you can't start with them. Instead, change starts with you and me: The American voter."
The Democrat writes that elections are decided by voters in the ideological middle. "They want our country to succeed, both in the world and at home. They're pragmatists who don't care so much how you solve a problem as that the solution produces positive results.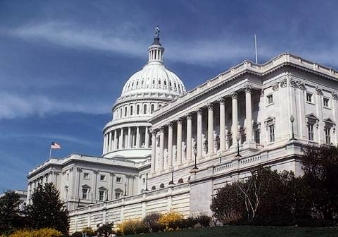 And they want government itself to work -- not to be burdened by favoritism, partisan posturing or ideological preconceptions that undercut its effectiveness. They want the United States to do better."
Hamilton asserts, "It can, if we exercise our responsibilities as voters," adding that "it matters whom we choose to represent us in Washington. Above all, we want to make sure that the tone our representatives set accords with the best interests of the country. Our nation is too diverse for any one faction or ideology to dictate the way forward, so choosing political leaders who know how to compromise when necessary is key to changing the tone of our politics. So is refusing to buy into the apocalyptic rhetoric that is all too common around election time these days. The country will survive -- and who knows, it might even prosper -- even if the other side wins the election. No election has permanent results in our system."
He concludes, "It is extremely hard to make this country work, but as voters we can help it along by choosing political leaders who are more determined to make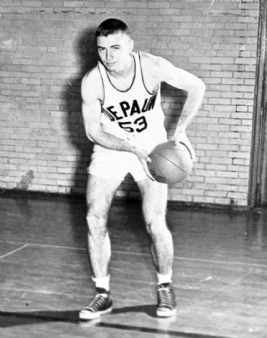 the country succeed than to have their personal views enshrined."
Access the complete column at the newspaper's website. (at left: Hamilton as a student at DePauw, where he was a star basketball player)
Lee H. Hamilton is director of the Center on Congress at Indiana University. Newsweek has called him "Mr. Integrity," while the New York Times' David Brooks opined of Hamilton, "The country is hungering for leaders like him: open-minded, unassuming centrists who are interested in government more than politics." In August 2010, USA Today noted, "He is one of the last of the Washington 'wise men,' figures who ruled Congress, led Cabinet agencies and shaped foreign policy during a less partisan era." The former congressman has authored Strengthening Congress and How Congress Works and Why You Should Care.
In a 2007 interview, Hamilton stated, "I had an undergraduate experience at DePauw University that certainly opened my eyes to a lot of possibilities." Learn more in this story.