Lucy Rowland Rector, Wife of DePauw Benefactor Edward Rector, Passes Away
November 26, 1949
November 26, 1949, Greencastle, Ind. — Lucy Rowland Rector, widow of DePauw benefactor Edward Rector, died today at her home in Chicago. She was 94 years old.
Mr. Rector's first gift to DePauw was made in 1919. At the regular June meeting of the DePauw Board of Trustees announcement was made of his plan to give some $2 million to make it possible for young men outstanding in character and scholarship to attend DePauw University. The proposed plan was adopted by the board and put into operation in September of that year, with 47 Rector Scholars in attendance. The scholarship has so increased in prestige and popularity that at present there are each year approximately five times as many applicants as there are available scholarships.
Since its inception, the Rector Scholarship has provided assistance for more than 3,000 selected young men and has been instrumental in helping more than 1,500 men secure their college degrees from DePauw.
Mr. Rector died in 1925.
Mrs. Rector, who married Edward Rector in 1893, shared her husband's aspirations and plans. In his book on Edward Rector, former DePauw President George R. Grose wrote, "The spirit and magnitude of Edward Rector's benevolence would not have been possible had Mrs. Rector not cooperated sympathetically in all his plans." Dr. Grose described Mrs. Rector as "a woman of singular temperament, breadth of sympathy, strong mind and firm character." (photo at right from June 8, 1941, following the annual Rector Scholarship dinner; l-r: G. Herbert Smith '27, then director of the Foundation; Fred Totten '27, 1940-41 president of the Rector Alumni Association; Mrs. Rector; H.B. Longden '81, first director of the Foundation; and Roy O. West '90, president of the Board of Trustees)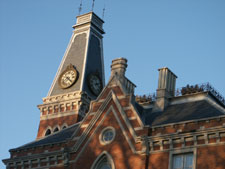 In addition to the Scholarship Foundation, the Rectors provided funds to erect three dormitories on the DePauw campus. Rector Hall is named in honor of Mr. Rector's father, Isaac Rector, a former member of DePauw's Board of Trustees. Lucy Rowland Hall is named in honor of Mrs. Rector, and Longden Hall honors the late Dr. Henry Boyler Longden '81, first director of the Edward Rector Scholarship Foundation.
Services for Mrs. Rector will take place on Monday, November 30, at Gobin Memorial Methodist Church on the DePauw campus.
Back