ESPN Founder Bill Rasmussen '54 to Speak at Philadelphia Event
January 14, 2011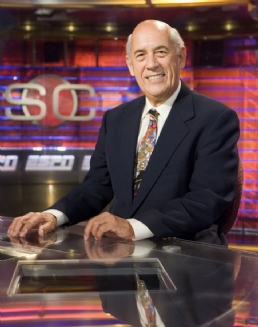 January 14, 2011, Greencastle, Ind. — "What important business events happened on Sept. 7, 1979?," asks the Philadelphia Business Journal's Lyn Kremer. "Chrysler Corp. asked the U.S. government for $1.5 billion to avoid bankruptcy. And the Entertainment and Sports Programming Network, better known as ESPN, made its debut. What is spectacular about Bill Rasmussen, the founder of ESPN, is that it was within days of his being fired by the Hartford Whalers that he brainstormed ESPN."
Rasmussen, a 1954 graduate of DePauw University, will speak at the Business Journal's February 2 breakfast in Philadelphia. He'll discuss "The Birth of ESPN."
Kremer states, "I think that is an especially valuable lesson in this day and age of 9.4 percent unemployment. Here's a guy who took a negative situation, turned it around and created a media outlet that has transformed the world of sports."
Read more by clicking here.

Bill Rasmussen is among the 2011 class of "The Champions: Pioneers & Innovators in Sports Business." The award, presented by SportsBusiness Journal/SportsBusiness Daily, recognizes "the architects and builders of sports." Details can be found in this recent story.
Back