Lee Hamilton '52 on the Implications for Democracy Following the Arizona Shootings
January 18, 2011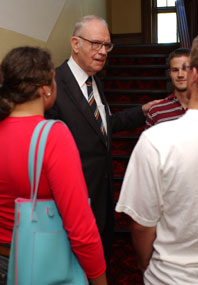 January 18, 2011, Greencastle, Ind. — In the wake of the January 8 shootings in Arizona which killed six people and left 14 others, including U.S. Rep. Gabrielle Giffords injured, Lee Hamilton writes, "The personal tragedies have been awful enough; as a nation we also have to worry about a political tragedy, quiet and slow-moving but no less damaging for that. I'm talking about weakening further the bond between us and our elected representatives." (at left: Hamilton chats with DePauw students during a 2004 visit to campus)

In an op-ed, Hamilton -- a Democrat who served 34 years in Congress and is a 1952 graduate of DePauw University -- declares, "Our democracy depends on members of Congress being able to mingle freely with the people they serve. Yes, they have a lot of responsibilities in Washington that go with the job, but for these to have any meaning in a representative democracy they have to be rooted back home. It's in their discussions with ordinary Americans that members do their most important work -- at formal town halls, in stops by cafes, in speeches at VFW halls or visits to community groups, in impromptu conversations and at organized 'listening sessions' like the 'Congress on your Corner' event that Congresswoman Giffords was hosting. These are where they get a glimpse of what's on people's minds and how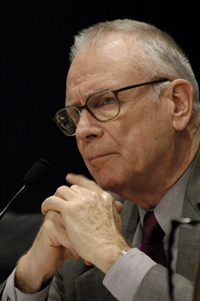 strongly they feel about it; get alerted to issues they may not have known about; get questioned and challenged on their political stances; and have a chance to explain both their own and the Congress' thinking. Without this kind of two-way education, representative democracy simply wouldn't work."

There have been many threats in the past, Hamilton notes, but the recent violence may make the creation of a new barrier between congressional representatives and their constitutents inevitable. "It's hard to imagine the easy informality that ought to exist between constituents and public officials continuing," Hamilton writes. "It seems equally certain that people who might have considered dropping by a shopping center or community hall to see their elected representative will think twice, lest they get caught up in the next headline-making atrocity."

The veteran statesman continues, "In the wake of the Arizona shootings, a lot of politicians and commentators of all stripes have been searching their souls about the character and intensity of their rhetoric. If there is anything positive to come of this, it may be in the awareness that the manner in which political discourse is conducted is important and has consequences. Robust political debate -- even sarcasm and biting humor -- is one thing; suggestions that someone ought to be 'eliminated' are quite another. So if our super-heated political discussions cool down a bit, that's good.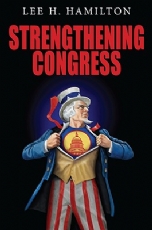 What would not be good is if the chill extends to the ordinary, day-to-day, vastly important contact between our representatives and the American people. If we diminish that dialogue or make it more difficult or put up barriers to it, then the shootings in Arizona will have claimed more than just human victims; something vital in our democracy will have been wounded, too."
Read the full text here.
Lee H. Hamilton is director of the Center on Congress at Indiana University and author of Strengthening Congress and How Congress Works and Why You Should Care. He co-chaired both the 9/11 Commission and the Iraq Study Group.

Access another of his recent essays via this recent article.

Back