Tigers Nail 15 Three-Pointers in 29-point Win at Southwestern
January 22, 2011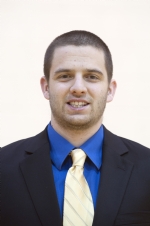 January 22, 2011, Georgetown, Texas — DePauw limited Southwestern to a season-low point total and never trailed on the way to a 69-40 Southern Collegiate Athletic Conference win at Southwestern.
The Tigers improved to 11-7 overall and 6-3 in the conference, while the Pirates dropped to 4-14 overall and 2-7 in the SCAC.
Over the opening eight minutes of the game, DePauw hit four three-pointers and jumped out to a 16-3 lead. The Tigers extended that margin to a high of 19 at 33-14 at the intermission.
Southwestern was as close as 16 midway through the second half, but DePauw used a 14-2 run which sealed the victory. The Tigers led by as many as 32 in the final minutes of the contest.
Steve Lemasters (pictured) scored a season-high 15 on five three-pointers, while Michael Wilkison added 12 on four three-pointers. Sean Haseley also scored 12 and Drew Wills followed with 11. Ross Simpson, Joe Bergfeld and Wills each grabbed five rebounds with Wilkison and Simpson each dishing out three assists.
James Davenport led Southwestern with nine points, while Jonathan Brown grabbed five rebounds and handed out three assists.
The Tigers shot 46.2 percent for the game including 52 percent in the second half and knocked down 15-of-29 from three-point range with 9-of-16 coming in the opening 20 minutes. Southwestern shot just 33.3 percent from the field. DePauw also held a 34-27 rebounding edge.
DePauw hosts Colorado College on Friday, January 28, at 8 p.m.
Follow DePauw Athletics on Twitter | Become a Fan of DePauw Athletics on Facebook
Back