Bret Baier '92 Calls Playing in the Bob Hope Classic "An Unbelievable Experience"
January 24, 2011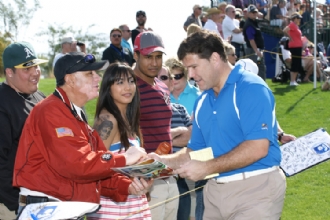 January 24, 2011, Greencastle, Ind. — Word of Friday night's announcement by MSNBC host Keith Olbermann that he will no longer be hosting the network's Countdown program reached Fox News anchor Bret Baier in La Quinta, California, where he was among the participants in the 52nd Bob Hope Classic. Baier, a 1992 graduate of DePauw University, tells the Palm Springs Desert Sun, "You know, we don't think a lot about other networks. We just try to deal with our own shows, or at least I do." (photo: Baier signs autographs at the tournament)
The host of Special Report with Bret Baier also commented on reports the foundation led by former President Bill Clinton may form a partnership with the Hope Classic, which has not had a title sponsor for the past two years.
"The important thing is to keep this gem of a tournament active," declares Baier. "Whoever they team up with, the tournament will decide. I would just hope it's here forever. It's an unbelievable experience. But as long as they're around, that's important for a spectator and a first-year player."
Baier was among the celebrity participants in the Hope Classic. Others included Alice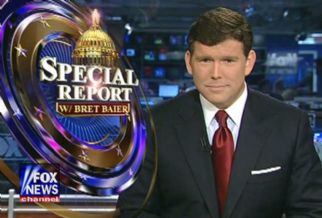 Cooper, Bo Jackson and Kurt Russell. The event raised $1 million for local charities.
Read more at the newspaper's website.
Bret Baier was an English (composition) and political science major at DePauw, where he was captain of the Tiger golf team. Last month he signed a new, multi-year deal with Fox.
In 2008, Baier returned to his alma mater to discuss his career and to extol the advantages of a DePauw degree. A story with audio clips can be accessed here.
Back