Boston TV News Anchor Heather Unruh '89 Featured in Nantucket Magazine
September 29, 2008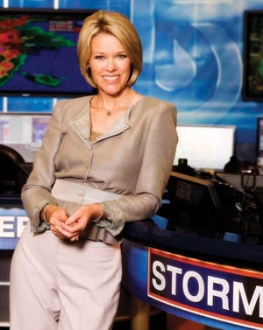 September 29, 2008, Greencastle, Ind. — "As a student at DePauw University, Heather Unruh looked back to New England for her first big internship, which she served at Boston's Channel 5 during her senior year," notes a story in Nantucket magazine. Unruh, a 1989 graduate of DePauw, was raised in California but spent her summers in New England. The story tells of how she returned to the region in 2001 to work at Boston's WCVB-TV, where she interned as an undergraduate and now co-anchors the station's evening newscasts.
Recalling her internship, Unruh says, "I came in wearing my navy button-down suit. I was so excited to have the opportunity to learn from the best. I worked ten-to-twelve hour days, six days a week. I came out on Saturdays, so I could go out with the reporters on their stories."
The text adds, "Through that internship, Unruh became 'hopelessly hooked on the news and on New England.'"
The article traces Unruh's first job at a "teeny, teeny station in Atlanta that you could barely get on your TV," in her words, "where she did news updates in the middle of superstars of wrestling," writes Marli Guzzetta. She then landed jobs in Binghamton, New York; Birmingham, Alabama and Oklahoma City before landing a job in Boston. Seven years after she joined WCVB she was named the station's primary evening co-anchor.
The station's general manager, Bill Fine, says the audience relates to Unruh's "straightforward" style. "Viewers have responded to her. The people who are best in TV are the ones whose personalities come through. People say that when they watch her that they feel like they know her."
Read the complete feature at the magazine's website.
Heather Unruh has received the Clarion Award from Women in Communications, Inc., an Emmy Award, the "Grand Gracie" award from the American Women in Radio and Television for excellence in reporting, and the American Cancer Society's Sword of Hope Award.
Learn more in this previous story.
Back