History Prof. A.W. Crandall Dies at Age 68
May 2, 1963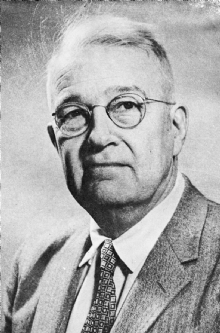 May 2, 1963, Greencastle, Ind. — Andrew Wallace Crandall, professor emeritus of history at DePauw and one of the University's most beloved and distinguished teachers, died today at Putnam County Hospital in Greencastle following an extended illness. He was 68 years old.
Perhaps one of America's best known authorities on the Civil War, Dr. Crandall was a member of the DePauw faculty since 1921 and served as head of the history department from 1956 until his retirement in 1960.
When he stepped down from full-time teaching, Crandall was named as the first holder of the Eugene C. Pulliam Chair of American History at DePauw, established by a $60,000 grant from Mr. Pulliam, a 1910 graduate, trustee of the University and publisher of the Indianapolis Star and News. In this caoacity, Dr. Crandall had been teaching two sections of American history until last December when his illness forced him to leave the classroom.
Known as "A.W." or "Andy", Professor Crandall's lectures on the Battle of Gettysburg were as much a part of DePauw as the Monon Bell and the Boulder. Each spring since 1925, Crandall had given his version of the famous battle in a lecture series which attracted students, fellow faculty members and people from the Greencastle community. The lecture/reeenactment was so popular in recent years that the professor had to offer it in two sessions (access audio of the lecture at the DePauw Archives).
Dr. Crandall was twice chosen for awards presented each year by the student organizations Sigma Delta Chi and Alpha Delta Sigma. In 1952 he was named "Best Teacher" and in 1959 received the "Brown Derby Award" as the most popular professor.
Born in Chapman, Kansas, Crandall received the A.B. degree from Central College (Missouri), the M.A. from the University of Chicago, and the Ph.D. from the University of Pennsylvania. He also studied at the University of Glasgow and later taught in Maryville, Missouri.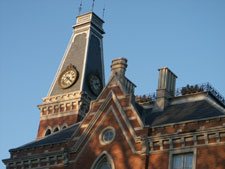 He participated in both World Wars and was awarded the Bronze Star in the latter when he served as historian with the rank of major in the North Africa and Mediterranean theaters.
A founder and sponsor of the Putnam County Historical Society and also a life member of the Indianapolis Civil War Roundtable, Dr. Crandall made numerous trips throughout the Midwest lecturing to historical societies and alumni groups on his favorite subject -- the Civil War. He was selected by Indiana's government to participate in a sesquicentennial history of the state, and authored the book The Early History of the Republican Party, which was first published in 1930 and reprinted in 1961.
Back