EcoTeach Notes Contributions of DePauw Team's Winter Term in Service in Costa Rica
January 26, 2011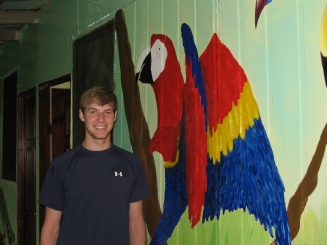 January 26, 2011, Greencastle, Ind. — "It may not be Ty Pennington and the ABC film crew moving in to tear down and renovate the place, but Estacion Las Tortugas, a sea turtle conservation project on the Caribbean coast of Costa Rica, received a beautiful paint job courtesy of DePauw University WTIS (Winter Term in Service) students and other volunteers from EcoTeach," notes that organization. "Twenty students plus two staff members from DePauw University's WTIS program spent a week painting the dormitories at the turtle station as part of their 21-day EcoTeach expedition." (at left: DePauw freshman Tyler Davies, one of the students on the trip, stands next to a painting of a macaw)
EcoTeach's writeup adds, "The WTIS program is one of DePauw's oldest and most popular service programs. This is DePauw's sixth EcoTeach expedition to Costa Rica and their itinerary was packed with service work, cultural immersion and opportunities to work alongside local people on vital community projects -- all key components of the WTIS program."
Founded in 1994, EcoTeach is committed to conservation and cultural awareness through education. The organization brings student groups, teachers, individuals and families to Costa Rica, Mexico and Peru for ecological expeditions that focus on conservation work, authentic cultural exchange, guided exploration and fun.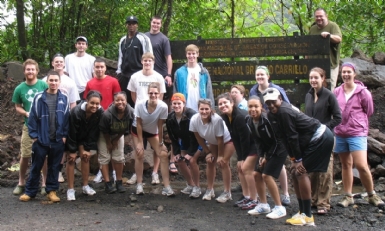 The DePauw group (seen in the photo at right) returns from Costa Rica early tomorrow morning.
Read more here.
Before leaving for Costa Rica, the students had an opportunity to meet with that country's two-time president, Nobel Peace Prize recipient Oscar Arias, when he visited DePauw on December 8, 2010. A summary of Dr. Arias' Ubben Lecture -- including video and audio clips as well as photos -- may be accessed here.
The experiences of another DePauw Winter Term in Service group were recently the subject of a story in the Times of India.
Back