Yo-Yo Ma to be Featured at 'DePauw Discourse 2011: Empowering Society Through the Arts'
January 28, 2011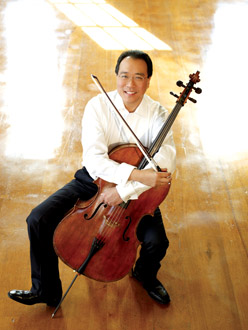 January 28, 2011, Greencastle, Ind. — World-renowned cellist Yo-Yo Ma will be the featured artist of "DePauw Discourse 2011: Empowering Society Through the Arts," scheduled to take place September 29 - October 1. Joined by DePauw University alumni and other distinguished guests, Yo-Yo Ma will lead a celebration of the arts while exploring their vital community role in sparking creativity, innovation, self-expression and dialogue. (photos of Yo-Yo Ma by Michael O'Neill)

"On behalf of the DePauw community, we are profoundly excited to welcome Yo-Yo Ma to our campus," says DePauw President Brian W. Casey. "His life's work at the intersection of music, creativity and the exchange of ideas makes him an extraordinary ambassador, not only for the arts, but also for liberal education as a whole."

Currently the Judson and Joyce Green Creative Consultant for the Chicago Symphony Orchestra, Yo-Yo Ma has had a multi-faceted career that reflects a quest to find new ways to connect with audiences and support artistic growth and renewal.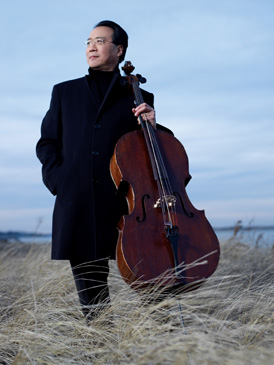 He is a multiple Grammy Award-winning cellist, whose eclectic repertoire represents a unique variety of musical forms and cultures. Ma will be awarded the Presidential Medal of Freedom next month.

Approaching music as a means of communication and a vehicle for the movement of ideas, Yo-Yo Ma created the Silk Road Project in 1998 to promote study of the cultural, artistic and intellectual traditions along the Silk Road trade route from the Mediterranean Sea to the Pacific Ocean.

Yo-Yo Ma's visit to Greencastle will span September 29 and 30, including a DePauw Discourse performance and discussion as well as a master class with DePauw School of Music students in the Judson and Joyce Green Center for the Performing Arts.

"Judson and I are delighted to bring Yo-Yo Ma to DePauw Discourse, the School of Music and the entire DePauw community," says Joyce Taglauer Green '75, DePauw Discourse chair. "Setting the stage for a conversation distinct from those of previous DePauw Discourse programs, this year's focus enables alumni and friends to celebrate the arts and consider their broad impact on our lives and society at large."



Established in 2004, DePauw Discourse gathers alumni and other distinguished guests with students, faculty and members of the DePauw community in thought-provoking dialogue about some of the most pressing public issues of the day. Past presenters have included Lee H. Hamilton '52, Vernon E. Jordan Jr. '57, Madeleine Albright, L. Paul Bremer, Paul Volcker, Robert F. Kennedy Jr., and MSNBC's Joe Scarborough and Mika Brzezinksi.

A DePauw Discourse schedule, including Yo-Yo Ma events, will be made available later this spring. For updates, visit this website or contact Steve Setchell '96 for more information at ssetchell@depauw.edu or (800) 446-5298.
Back