Jim Weddle '75 Featured in St. Louis Commerce Magazine
January 30, 2011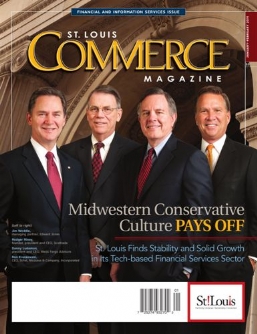 January 30, 2011, Greencastle, Ind. — "The thing that helped us was our focus on the individual investor," says Jim Weddle, managing partner of Edward Jones and 1975 graduate of DePauw University. Weddle is featured on the cover of the latest issue of St. Louis Commerce in a story that examines how the St. Louis financial services community weathered the nation's economic downturn. The cover shows, l-r, Weddle; Rodger Rinney, founder, president and CEO of Scottrade; Danny Ludeman, president and CEO of Wells Fargo Advisors; and Ron Kruszewski, CEO of Stifel Nicolaus & Company, Inc.
Weddle's St. Louis-based firm had 24,000 associates in 9,000 offices around the nation in 2005. Today, the firm has in excess of 30,000 associates in more than 11,000 offices across America, the magazine reports.
"The secret to success, CEOs note, isn't really a secret: the Midwestern culture of being conservative and the ability to rigorously evaluate risk," writes Shera Dalin. "While the New York firms were selling questionable, risky products, the major St. Louis firms avoided them."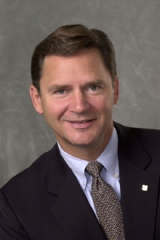 "We all kind of stayed out of the swamp," Weddle says. "It's that conservative, Midwestern approach."
You can read the entire piece at the magazine's website.
James D. Weddle was named managing partner of Edward Jones in January 2006. After graduating from DePauw, where he majored in psychology, Weddle earned an M.B.A. from the Olin Business School at Washington University in St. Louis. He also graduated from the University of Pennsylvania Wharton School's Securities Industry Institute.
Weddle serves on the board of the Securities Industry & Financial Markets Association (SIFMA), and is a member of the Olin School of Business National Council and the University of Missouri-St. Louis Chancellor's Council. Another piece in the magazine notes that Weddle has been named 2011-12 board chair of the United Way of Greater St. Louis. He chaired last year's United Way campaign.
Learn more about him in this previous story.
Back