Commencement Address by Canadian PM Diefenbaker Makes National News
June 6, 1960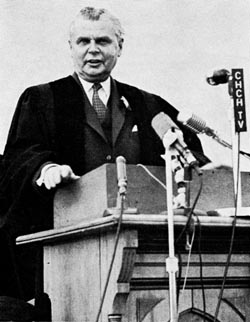 June 6, 1960, Greencastle, Ind. — Prime Minister Diefenbaker of Canada Sunday called for a top-level meeting of the North Atlantic Treaty Organization to examine worsening relations with the Soviet Union," reports the Associated Press in a story that is receiving wide distribution. "In a speech to a DePauw University commencement audience, Diefenbaker said heads of state among the NATO powers should get together to reassess what he termed Premier Khrushchev's tactics of 'the carrot and the stick, of alternating smiles and threats.'"
The text adds, "The prime minister said there is an immediate need for more consultation among NATO members to present a unified front to the bewildering Soviet tactics of alternating affability and venom. Diefenbaker, however, indicated he thinks it would be a mistake to try for another summit conference at this time. He said a premature summit meeting 'would be worse than none at all.'"
The article appears on the front page of today's Milwaukee Sentinel.
A summary of yesterday's commencement may be accessed here. You

may also hear audio of Prime Minister Diefenbaker's complete address:

[Download Audio: "John Diefenbaker's Commencement Address" - 12,612kb].
Source: Associated Press
Back