AP Spotlights Bob Steuber, Nation's Leading Scorer
October 19, 1943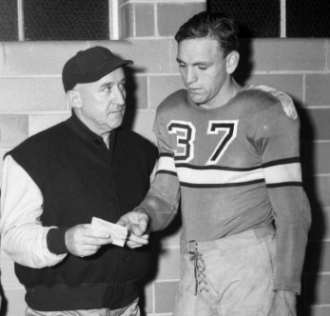 October 19, 1943, Greencastle, Ind. — "The war and Bob Steuber are putting little DePauw University on the nation's football map," begins a nationally-distributed Associated Press article. "While many colleges have suffered severely by loss of star gridiron material by the war, DePauw is enjoying one of its best seasons, and Coach Raymond (Gaumey) Neal points to Steuber as reason for the Tigers' success." (at left: Neal and Steuber)
The story points out that the war effort brought Steuber -- who starred at the University of Missouri and then played for the Chicago Bears -- to DePauw. "Steuber, enrolled in the naval pre-flight training college, has scored 77 points in three games and is the nation's leading scorer. Against Wabash last Saturday he averaged 14 yards in 19 ball-carrying efforts."
"It's swell to have some real ability" in the Tiger backfield, Coach Neal tells AP. "But I'm not taking any credit for Steuber. He's just one of the boys -- tries to cooperate and it's 'yes, sir,' and 'yes,coach' to any idea we have."
The story adds that "the football situation at DePauw,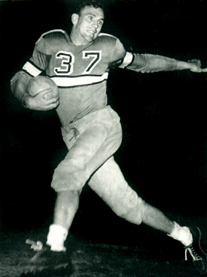 already the best in its history, may become better. Reports have Otto Graham, Vic Schwall and Alex Kapter, stars of Northwestern's team, about ready to land on the DePauw campus as service men."
According to the coach, "it sure makes a fellow feel good, just the way it is here."
The article is published in today's Sarasota Herald-Tribune.
A summary of the 1943 Monon Bell game between DePauw and Wabash College can be accessed here.
Back