National AP Story Notes Saturday's Dedication of Sigma Delta Chi Monument
April 10, 1967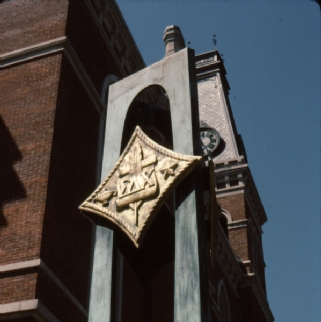 April 10, 1967, Greencastle, Ind. — "A 14-foot bronze and stone monument on the DePauw University campus marks the birthplace of Sigma Delta Chi, the national journalistic society which was founded here by 10 students in 1909 and now has more than 40,000 members," begins an Associated Press story which is receiving national distribution. "Press notables from the around the nation gathered Saturday for the unveiling of the monument. One of the notables was Eugene C. Pulliam, publisher of the Indianapolis Star and News and the Phoenix Republic and Gazette in Arizona. Pulliam [a 1910 graduate of DePauw] is one of the surviving founders of the society," it notes.
"Benjamin McKelway, editorial chairman of the Washington Star and an honorary president of the society, delivered the dedication speech. The founding of Sigma Delta Chi, he said, 'was the first organized effort, dedicated to the highest ideals and principles of journalism, designed to raise standards of professional competence and to elevate, by various well-organized programs, the prestige of journalism as a profession.' McKelway said the 10 students who founded the society 'started something bigger, capable of developing a greater influence for the good of journalism, than any of them realized.''
The AP story also carries a quote from DePauw President William Kerstetter, who told those gathered, "This monument
will not only be a permanent part of the life of this institution, but a living symbol of the indispensible ideals of higher education and professional journalism."
Read the full story, which is published in today's Warsaw Times-Union.
Learn more about the founding of SDX in this previous article.
Source: Associated Press
Back