Newspaper Publisher Eugene C. Pulliam '10 Passes Away
June 23, 1975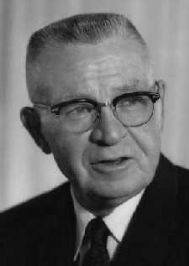 June 23, 1975, Greencastle, Ind. — Eugene C. Pulliam, publisher of newspapers in Arizona and Indiana and 1910 graduate of DePauw University, where he was a co-founder of the journalism honorary Sigma Delta Chi, died tonight after suffering a stroke at his Phoenix home. He was 86 years old.
Pulliam was born May 3, 1889, in Grant County, Kansas. In 1909, he and nine other undergraduates founded Sigma Delta Chi, the Society of Professional Journalists. He later served as a member of DePauw's Board of Trustees for 32 years.
He chaired a committee which built a monument to commemorate the founding of Sigma Delta Chi at DePauw. The marker was dedicated in 1967 and stands outside of East College.
Pulliam became the nation's youngest newspaper publisher when he helmed the Daily Champion of Atchinson, Kansas, at age 23. During the next 63 years, he owned or operated
46 newspapers. At the time of his death, Pulliam was publisher of the Arizona Republic and Phoenix Gazette and owned the Indianapolis Star and News, among other papers. (at right: Pulliam as a DePauw student)
Last November, he was honored as a "distinguished American and a great newsman" today at the SDX national convention.
In 1965, upon receiving the John Peter Zenger Award, Pulliam stated, "As partners in freedom, the people and the press can save liberty. If newspapers can recognize their responsibility, as well as their opportunity, to print the truth, refuse to be intimidated, refuse to bow to government bureaucracy, then they will serve the highest cause of civilization, which is individual freedom -- freedom of choice, and the right of free expression."
Back