University Closed Tuesday; Winter Storm Warning in Effect
January 31, 2011
Also: Greencastle Forecast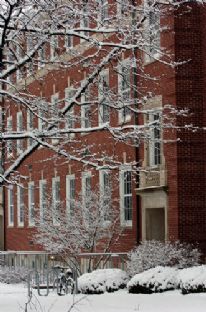 [UPDATE 9:43 p.m. Monday 1/31: Due to the deteriorating weather conditions, the University is declaring a severe weather emergency and the University will close -- except for emergency personnel -- as of 11 p.m. Monday evening. Classes and events are canceled for Tuesday, February 1, 2011.
Students are encouraged to make personal decisions regarding travel on campus. Sidewalks and stairs are extremely slick and hazardous. Vehicular travel is also dangerous and students are strongly encouraged not to drive. Public Safety encourages students to remain in their residence, and suggests that -- in preparation for a potential power outage -- students charge personal electronics, collect personal necessities and gather warm clothing.
The Office of Public Safety will continue to provide updates to the DePauw community via e-mail, in addition to updates to the University website.]
January 31, 2011, Greencastle, Ind. — As the Midwest prepares for what appears to be a major winter storm, DePauw University's directors of public safety and emergency management are encouraging students to stay informed by monitoring local and regional media outlets. Greencastle, like much of the region, is under a Winter Storm Warning.
In a message to DePauw students this afternoon, Angie Nally, director of public safety, asks, "Please take this time to consider essential personal items, (i.e.: medicine, eyeglasses, cell phone and charger, etc.) that may become necessary in the event a power outage requires a relocation." She adds, "Please monitor e-mail closely."
The DePauw community will receive updates via e-mail and through the University website. Also available as a resource is the emergency management page and Weather.com's latest forecast for Greencastle.
Individual questions may be directed to police@depauw.edu.
Back