"Absolutely Thrilling" News of September Visit by Yo-Yo Ma Noted by Paper
February 2, 2011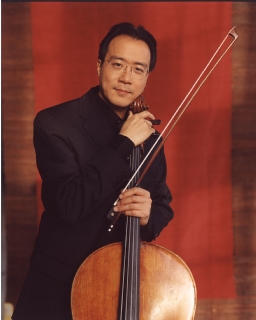 February 2, 2011, Greencastle, Ind. — "It's absolutely thrilling that he's coming to DePauw," Eric Edberg, professor of cello, says of Yo-Yo Ma, who will be visiting the University in September. An article in the Banner-Graphic details the announcement DePauw made last week -- that the multiple Grammy® Award-winner will be the featured artist of "DePauw Discourse 2011: Empowering Society Through the Arts." The event will take place September 29 - October 1.
"Not only is he the most famous and successful cellist on the scene today, and probably the biggest draw of any classical artist, but he's so committed to innovation and using music to bridge cultures," Professor Edberg tells the newspaper. "That's something that music schools, including DePauw, are looking at. How do we prepare our music students for what musicians do in the 21st century? All across the country, there's a process of redefinition of what our mission is as classical musicians and as educators."
According to Steve Setchell '96, major gifts officer and organizer of DePauw Discourse, the arts is "certainly a vital public issue and one that affects communities in terms of exchange of ideas,
citizenship, creativity."
Yo-Yo Ma is currently the Judson and Joyce Green Creative Consultant for the Chicago Symphony Orchestra. Joyce Taglauer Green '75 chairs DePauw Discourse, while Judson C. Green '74 serves on the University's Board of Trustees, which he formerly chaired.
"They're really doing such great things to empower musicians, train musicians and to stimulate this kind of thinking," Edberg says of the Greens. (above photo: Judson and Joyce Green at the dedication of DePauw's Green Center for the Performing Arts; October 25, 2007)
Read the article at the Banner-Graphic's website.
Also available is the January 28 article announcing Yo-Yo Ma's visit.
Back