"The People are Winning" in Egypt, Declares Barbara Ibrahim '71
February 1, 2011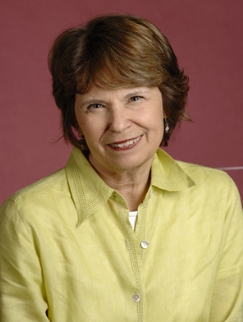 February 1, 2011, Greencastle, Ind. — "Little noted in the rapidly evolving news from Cairo was a potentially crucial event -- the decision of Egypt's top judges to march in unison with protesters in the city's Tahrir Square," reports the Washington Examiner. The joining of the judiciary branch to the uprising appeared to be a critical moment, said Barbara Ibrahim, the founding director of the John D. Gerhart Center for Philanthropy and Civic Engagement at the American University in Cairo. For Mrs. Ibrahim, the moment symbolized hope for a lawful, orderly transition of power, rather than the type of revolution that led to the rule by Islamic extremists in Iran three decades ago," writes Sara A. Carter.
"I will point out that this is a group of judges who've been speaking out about corruption," says Barbara Lethem Ibrahim, a 1971 graduate of DePauw University. "The fact that they are back out on the streets after years of being in fear of the government is evidence in itself that the people are winning."
The article notes that Ibrahim's husband, Saad Eddin Ibrahim (pictured at right), is an Egyptian human rights activist and scholar who was jailed after speaking out against President Hosni Mubarak. Saad Ibrahim taught sociology at DePauw University from 1967 to 1974.
"The Egyptian people have stood up against Mubarak and refused to be intimidated," Barbara Ibrahim told the newspaper from her home in Egypt. "I am not afraid of anything anymore. We have a group of Egypt's senior judges coming out to demonstrate after the curfew ... This is not about the Muslim Brotherhood, this is about the people of Egypt who are fed up."
You'll find the complete story at the Examiner's website.

Barbara Lethem Ibrahim is founding director of a program launched in
2006 for strengthening Arab philanthropy and civic engagement, based in Cairo. Prior to that she was regional director for West Asia and North Africa at the Population Council, a position she held since 1991. She previously served as the Middle East program officer for urban poverty and women's studies programs for the Ford Foundation, Cairo. Ibrahim received an M.A. degree from the American University of Beirut and a Ph.D. from Indiana University.
Saad Ibrahim was interviewed yesterday by NPR and talked with CNN last week.
Back