Weather Conditions Begin to Improve; University Eyes Thursday Reopening
February 2, 2011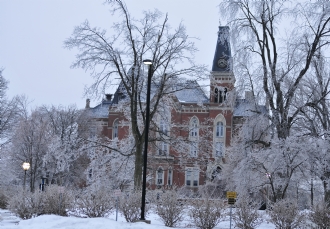 [UPDATE 2/2 2:18 p.m.: Greencastle has moved to a lower, level 2 emergency, which allows people to travel to and from work using caution. County roads remain at level 1 status and travel is restricted to emergency traffic only. Power has been returned to affected living units. It appears the University will reopen at 7 a.m. tomorrow and resume classes. Stand by for updates.]
February 2, 2011, Greencastle, Ind. — Classes are canceled for a second consecutive day at DePauw University, which expects additional snow today following an ice storm, but accumulation should be minimal. It is still anticipated that the University will reopen at 7 a.m. tomorrow, although weather conditions are still being monitored and a final determination won't be made until later today.
Since a severe weather emergency was declared Monday night, Greencastle and much of Indiana have been pounded by an ice storm, snow and gusting winds. Falling temperatures today are creating new concerns, and there is a continued threat of falling limbs from trees and ice from buildings. Individuals are encouraged to stay inside. Putnam County remains under a level 1 weather emergency, meaning travel is restricted to emergency personnel only. A Winter Storm Warning remains in effect until 7 p.m.; the Ice Storm Warning has now expired.
Crews are working to clear entry ways to the Memorial Student Union and residence halls. A few living units are without power. Work is under way to restore electricity and no students have needed to be relocated.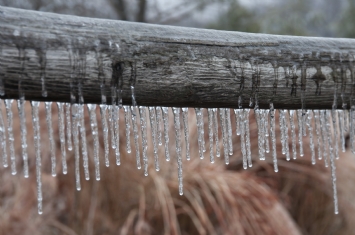 People are asked to keep windows in their rooms closed; opening them threaten the water and steam pipes that supply heat to residence halls.
Those needing assistance should call the public safety office at (765) 658-4261.
The Lilly Physical Recreation Center will be open today from 10 a.m. to 4 p.m. (a DePauw ID is required to enter the building). Roy O. West Library will be available from 10 a.m. to 3 p.m.
Monitor this page for updates.
Individual questions may be directed to police@depauw.edu.
Back