Tom Hession '59 "Did it All," Declares Indianapolis Star Tribute
January 30, 2011
January 30, 2011, Greencastle, Ind. — Thomas D. Hession, a 1959 graduate of DePauw University, "amassed a resume that would be hard to match for its civic-mindedness: Shelbyville Citizen of the Year, Shelby County Lifetime Citizen and Community Growth Award recipient; a director of the Chamber of Commerce, and the community foundation, and the Boys' Club," notes the Indianapolis Star. "At its meeting Jan. 18, the Shelbyville City Council observed a moment of silence in his honor."
Hession, who passed away January 16, is the subject of the Star's "A Life Lived" feature.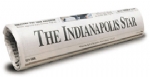 Will Higgins writes of Tom Hession's 1968 move to Shelbyville, where he served as the high school's football and baseball coach and taught government and economics. He also served two terms as an Indiana state senator and was also a radio broadcaster.
Read the piece -- "Coach, teacher, senator: In Shelbyville, he did it all" -- at IndyStar.com.
Back