Journey to the Middle of the Earth
February 8, 2011

Ecuador sits atop South America's western shoulder, named for the line of latitude it straddles. Access to healthcare in its mountainous countryside is often a luxury. When the nearest doctor is hours away, some conditions won't be treated for weeks or even months – if ever.
For many years, the Indianapolis-based Timmy Foundation has worked with local medical professionals in Ecuador's capital, Quito, to provide medical services to the city's poor. In January 2011, the charity sent its first medical brigade to Ecuador's Napo province, where a dirt lane is often the main road and some villages can only be reached by boat. Nineteen DePauw students and professors joined the medical professionals on the trip, officially part of DePauw's Winter Term.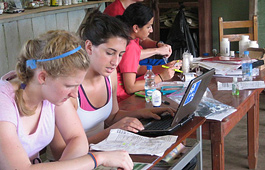 At each clinic the group held – typically in a host community's open-air school – students escorted patients between different stations, where they shadowed nurses, physicians and dentists. At Check-In, students took notes on patient histories to determine what services were needed; at Vitals, blood pressure, height and weight were measured; at Treatment, students learned about diagnostic and treatment techniques; and at the pharmacy, they became familiar with what types of medicine were commonly prescribed for different conditions.
"By the end of the trip, we had become a well-oiled machine at keeping the flow from station to station," says Daniel G. Gurnon, assistant professor of chemistry and biochemistry, a faculty leader for the trip.
The volunteers had a chance to take part in different roles in the clinics, changing at least one student's future plans. Junior Elizabeth A. Botts set off to Ecuador knowing she wanted a career in the medical field, leaning toward a master's degree in public health. And now?
"After spending one day in Vitals, I knew I wanted to be a nurse," she says. "Having the knowledge to help those patients was a remarkable feeling. I've since learned that I can continue my education and obtain a master's in public health nursing, if I choose to go that direction."

Sharon M. Crary, associate professor of chemistry and biochemistry, has been faculty adviser for the DePauw chapter of the Timmy Foundation since its founding in 2004. The medical relief trips organized by the chapter are typically student-led, making this year's Winter Term the first time she was able to see their work firsthand. Crary is no stranger to global health, however. She has traveled to Uganda for service work with Lacor Hospital, and with the Centers for Disease Control to repond to an outbreak of Ebola in the African nation. These trips abroad, she says, are the best way for students to learn about global health.
"Many students who have been a part of the DePauw chapter were pre-med, or went on to pursue master's degrees in public health," Crary says. "These trips help educate students about best practices in global health in a way you can't get in a classroom environment."
Crary also points out that while medical outreach has the potential to do more harm than good, the Timmy Foundation understood the needs of rural Ecuadorians. "You may be handing out medicines that people aren't familiar with and don't know how to take, and outsiders can disrupt the relationship people have with their local doctors," she says. "[Our trip] was amazing because the Timmy Foundation does an incredible job at avoiding these pitfalls."
Some of the travelers, such as sophomore Katherine "Katie" E. Broecker, a Spanish minor, were well prepared to deal with the challenges of providing healthcare in a different culture. Ironically, she says she felt most useful in a village where Spanish wasn't spoken at all.
"We were in a very rural location full of indigenous populations who spoke the Quichua dialect," Broecker remembers. "I was taking patient histories and had my own translator, Luis, who converted the Quichua into Spanish, which I would then translate into English. We would go back and forth like that translating for each patient. Luis didn't speak a word of English, and I was worried about my Spanish skills, but we were able to communicate perfectly and to help the patients that came through the clinic. I was always touched when some of the patients would run through the clinic looking for me to ask a question or to help translate to an older family member – even when there were other translators around. They were so grateful that I was able to communicate effectively with them and relay their hurts and needs to the doctors."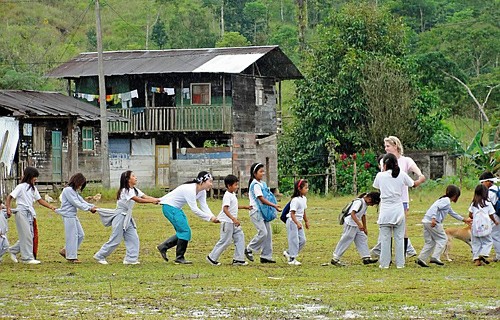 The group treated nearly 900 patients during 10 days in Ecuador. Now that it has established a presence in the Napo province, the Timmy Foundation will send a medical brigade every few months to follow-up with current patients and to treat new ones.
Soon after the DePauw group returned to Greencastle, the members began creating photobooks and an interactive map – materials that will help to raise money and awareness for their return trip in January 2012.
"The time that we used to discuss and organize information to be used in Timmy advocacy is equally as important as the work we did in Ecuador," says senior William "Max" Hudson, the student trip leader. "Since the next group will return to the same areas that we visited, preparing them with our knowledge and experience is of the utmost importance to our work."
Back