Prof. Nic Pizzolatto is Finalist for Discover Great New Writers Award
February 10, 2011
February 10, 2011, Greencastle, Ind. — "Nic Pizzolatto's debut novel, Galveston, is a gritty, noirish literary thriller that beats a dark path from New Orleans to the beaches of South Texas, following a hardened criminal who walks away from a shakedown with an unwanted souvenir in the form of a young prostitute who witnessed the event," notes an announcement that the book is one of three fiction titles named finalists in the 2010 Discover Great New Writers Awards. The program, presented by Barnes & Noble, gives first-place winners a $10,000 prize and a full year of additional promotion from the book chain. Second-place finalists receive $5,000, and third-place finalists receive $2,500.
Winners will be announced March 2. Established in 1990, the awards honor the best works featured the previous calendar year in the Barnes & Noble Discover Great New Writers program.
Pizzolatto is an assistant professor of English at DePauw. He has taken a leave from his teaching position to develop a screenplay based on his novel and is also working on projects for AMC and HBO.
Learn more about Professor Pizzolatto in this previous article.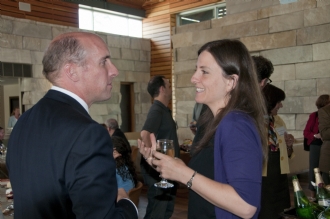 Rebecca Skloot, who came to DePauw in September 2010 to present a Timothy and Sharon Ubben Lecture, is one of three finalists in the non-fiction category for her book, The Immortal Life of Henrietta Lacks. (at right: DePauw President Brian W. Casey talks with Skloot at the Janet Prindle Institute for Ethics)
"A science writer, Rebecca Skloot is always on the hunt for a good story," states Barnes & Noble's announcement. "She found it in the person of Henrietta Lacks, the woman from whom the first HeLa cells were harvested (without her knowledge); and in her pursuit of the full story behind this astonishing fact, Skloot spent a decade to fashion, with considerable skill, her debut, The Immortal Life of Henrietta Lacks."
Learn more by clicking here.
Back