#14 Tigers Top Sewanee for 10th Straight 20-Win Season; Huffman Notches 400th Career Win
February 13, 2011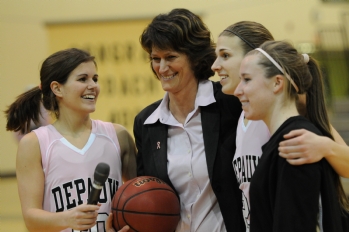 February 13, 2011, Greencastle, Ind. — On a day in which DePauw seniors Lauren Goff, Katie Mathews and Brooke Osborne were honored for their four years it was impossible to ignore the major milestone of their head coach, Kris Huffman, as she collected her 400th career victory.
DePauw defeated visiting Sewanee, 87-41, and improved to 20-3 overall and 13-1 in the Southern Collegiate Athletic Conference. The victory gave DePauw its 10th straight 20-win season and 14th in the last 15 years and it provided Huffman with her 400th victory against just 99 losses in only 18 seasons. Sewanee dropped to 2-22 overall and 0-15 in the SCAC.
DePauw opened the contest on an 8-0 run with Mathews leading the attack on the boards on both ends of the floor. The Tigers stretched the lead to 16 at the 4:24 mark and went to the break with a 42-23 advantage.
Mathews and Ellie Pearson had 11 points each at the break, while Mathews also added eight rebounds. DePauw shot 51.4 percent from the floor over the opening 20 minutes.
The Tigers put the game away as they opened the second half with a 21-4 run to extend their lead to 63-27.
Mathews led all scorers with 18 points and grabbed a career-high 12 rebounds. Alex Gasaway followed with a double-double of 15 points and 10 rebounds and Pearson added 13 points. Goff matched a career-high with six assists in the win.
Dana Middleton paced Sewanee with 13 points and Dee Bradford grabbed five rebounds.
DePauw shot 48.6 percent from the floor to Sewanee's 26.8 percent and the Tigers held a 52-23 edge on the boards while committing just 12 turnovers.
Huffman became the 30th active Division III coach to join the 400-win club after entering the season with the ninth best winning percentage among active Division III coaches with at least 10 years as a head coach on the level and 18th on all levels of NCAA basketball. She reached her 300th win in the second round of the 2007 NCAA Division III Championship, but needed just 117 games to make the next jump.
The victory also extended DePauw's record streak of SCAC home wins to 63. The record is retired as the Tigers join the North Coast Athletic Conference next season.
The Tigers return to action at Birmingham-Southern on Friday, February 18.
PHOTO: Coach Huffman with seniors Lauren Goff, Katie Mathews and Brooke Osborne
Follow DePauw Athletics on Twitter | Become a Fan of DePauw Athletics on Facebook
Back