Coach Kris Huffman's 400th DePauw Victory is "Very, Very Special"
February 14, 2011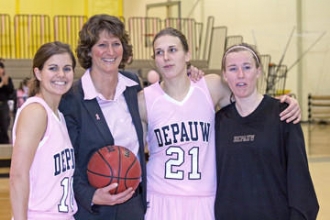 February 14, 2011, Greencastle, Ind. — "This is special," DePauw University head women's basketball coach Kris Huffman told the Banner-Graphic yesterday after notching her 400th career victory at DePauw. "To be someplace for 18 years and to have the quality of people and players go through the program that are part of those wins is very, very special," Huffman is quoted in today's edition of the newspaper. "And a special thanks to the coaching staff that I've had, especially Mary Smith who's been part of every one of the 400 wins. That loyalty and continuity makes a huge difference." (photo, courtesy Banner-Graphic: Huffman celebrates #400 with DePauw seniors, l-r, Lauren Goff, Katie Mathews and Brooke Osborne)
The Tigers defeated Sewanee (University of the South) 87-41 Sunday at Neal Fieldhouse. DePauw is now 20-3 overall and 13-1 in the Southern Collegiate Athletic Conference.
Huffman has led the program since 1993. "Since beginning at DePauw, Huffman has been named SCAC Coach of the Year six times and ICAC Coach of the Year twice," writes Caine Gardner. "Her teams have made 11 NCAA Division III appearances, winning the title in 2007 and placing third in 2002. The Tigers under Huffman's direction have captured nine SCAC titles and two ICAC titles."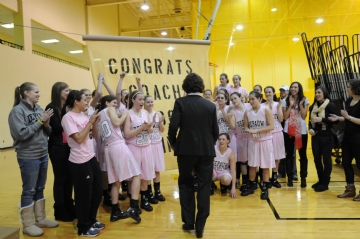 Yesterday's victory gave DePauw its 10th straight 20-win season and 14th in the last 15 years.
"It's certainly an honor to have the 400 at DePauw with these teams. I'm such an on-to-the-next-thing person, so I'm probably be worrying about Birmingham Southern and Rhodes tonight later on," Huffman told the paper.
The Tigers are at Birmingham Southern for a game at 6 p.m. (CST) Friday.
Access the complete story, or see a video segment by Terre Haute's WTHI-TV. You're also invited to visit the official online home of the DePauw women's basketball team.
Back