Vermont Gallery's Photo Exhibition Includes Work by Prof. Cynthia O'Dell
February 15, 2011
February 15, 2011, Greencastle, Ind. — A photograph by Cynthia O'Dell, University Professor and associate professor of art at DePauw University, is included in an upcoming exhibition at the Photoplace Gallery in Middlebury, Vermont. Works by forty artists will be included in "Home ... is Where the Camera Is," which will be on view March 1 - 26. Professor O'Dell's contribution (seen below) is from her series, "Maggie's Light."
A synopsis of the event states, "Home. We photograph our houses, our yards, our children, our friends, our celebrations, our anxieties. And we move beyond ourselves to photograph homes of others -- strangers, as well as people we know. Home is where the camera is, and it's where we use it to record our lives and the lives of others."
Photographer Julie Blackmon acted as juror for the exhibition.Besides choosing forty photographs for exhibition at PhotoPlace Gallery, she also picked an additional thirty-five images for the gallery's "online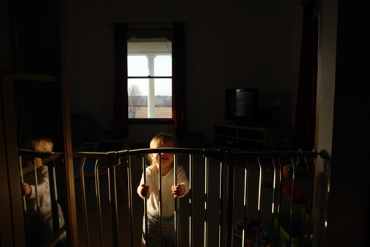 annex." All selected work will be included in a full-color exhibition catalogue available for purchase.
Read more here.
Last summer, Cindy O'Dell was one of three DePauw faculty members to receive grants from the Indiana Arts Commission's Individual Artist Program. Her photographic quilts are seen in the book, A Tinta, a Mariposa e a Metástase: a arte como experiência, conhecimento e acção sobre o cancro de mama (The Paint, the Mariposa and the Metastasis: art as experience, knowledge and intervention on breast cancer).
Back