Lee Hamilton '52 Addresses Challenges of Congress in Newspaper Op-Ed
February 14, 2011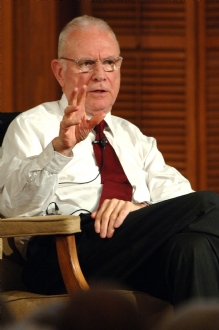 February 14, 2011, Greencastle, Ind. — "With an unexpectedly productive lame-duck session behind it and a new majority taking charge of the U.S. House, Capitol Hill is an energetic place at the moment," writes veteran statesman Lee Hamilton in a newspaper op-ed. "The question on everyone's mind -- and not just in Washington -- is whether this energy will amount to anything."
Hamilton, a 1952 graduate of DePauw University, served 34 years in the U.S. House of Representatives and went on to co-chair the 9/11 Commission and Iraq Study Group. The Democrat says that while voters are increasingly cynical about those serving on Capitol Hill, "Most are able politicians, strongly committed legislators, and among the hardest-working people this country produces. The problem is not members of Congress themselves; it's that Congress amounts to less than the sum of its parts."
The nature of Congress itself is an issue, Hamilton argues. "Its members might be talented individually, but they represent widely different districts, come to the job with vastly differing perspectives, and must respond to a bewildering array of pressures," he writes. "Just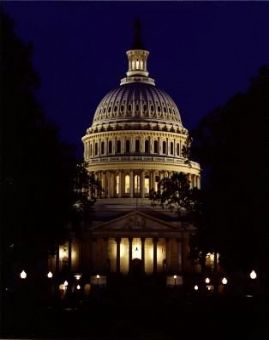 sorting through the regional, ideological, and political differences they confront is hard enough."

Also problematic are "the gradual decline of true conference committees and the appropriations process to the runaway use of the Senate's filibuster rule," he states.
Lawmakers are also under incredible pressure to raise money for their next re-election campaign, and "time spent raising money is time not spent attending to the people's business," Hamilton asserts. "When members do turn to legislating, what is often topmost on their mind is how to gain political advantage over the opposition, not finding remedies to the issues besetting us. The rise of political consultants to positions of influence not just on Congress-members' campaigns, but on their full-time staffs, has often led members to adopt the short-term perspective that comes from paying attention to daily polls and tactical positioning, not the longer-term outlook that grows from deliberation and discussion and that leads to crafting real solutions to our serious long-term challenges."
Additionally, argues Hamilton, "Congress suffers from its own members' disrespect. An entire generation won office by running against the institution, building their political careers on criticizing it and deriding other members -- something many of them continue to do while in office. They become so captivated by criticizing Congress and the actions of their colleagues -- and benefit politically so much for doing so -- that they lose focus on passing legislation for the benefit of the country."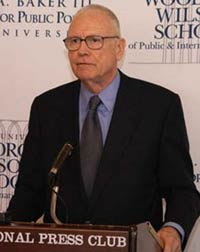 The flurry of activity that accompanied December's lame-duck session is proof that Congress is not dysfunctional, according to Hamilton. "But for today's energetic determination to turn into tomorrow's clear-eyed accomplishments, the denizens of Capitol Hill will need to look beyond procedural and structural change, and start addressing their own habits, assumptions, and culture. We all want to see a Congress that equals, if not exceeds, the sum of its talented members."
Access the full column at California's Santa Monica Daily Press.

Lee H. Hamilton is director of the Center on Congress at Indiana University and was part of last week's Ronald Reagan Indiana Centennial Celebration. Access another of Hamilton's recent op-eds column by Hamilton via this article.
Back