Chicago Tribune Dissects Steve Langerud's "Better Rounded" Resume
February 15, 2011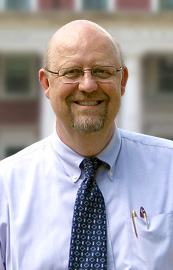 February 15, 2011, Greencastle, Ind. — As a Chicago Tribune article points out, "for most humble and hard workers, the past has shaped who they have become." Christopher Nelson points out that "Brad Pitt made a few extra bucks as the most handsome refrigerator mover ever, Jerry Seinfeld used to sell light bulbs over the phone and Fidel Castro practiced law in Havana."
Nelson writes, "Steve Langerud is a workplace consultant and is director of professional opportunities at DePauw University in Greencastle, Ind. He frequently speaks with clients and students about the link between their past and present professional lives. He starts the conversation by opening with his own evolution of early experiences."
According to Langerud, "The items from the past that make brief appearances on my resume today,

like most of us, were deeply formative experiences even if they are not exactly on point for our current work."
The text notes, "Summer high school jobs included working in a greenhouse and driving a dump truck. When he spent some time in Europe, Langerud not only worked for an archaeologist in southern France but he was also a street performer ... Don't see a relationship between circus tricks and professional consulting? Well don't look too hard because there is none. So why does Langerud keep it on his resume? Because it makes him seem better rounded, more interesting."
"In my work today, I want clients or employers to have a sense of breadth in my experience,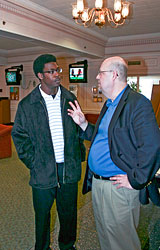 both topically and geographically, and that I've had a lot of fun along the way," declares Langerud. "Sometimes, we just get too serious when we write resumes and we need to add a sense of our personality and experience."
Read the complete article -- "Previous jobs on resume can be good conversation starters" -- at the Tribune's website.
Steve Langerud has helped more than 15,000 people with workplace issues and is regularly quoted in articles on the job market and career development. Yesterday he offered thoughts on when to consider changing jobs in a story posted at CNN.com. Last week he was cited in a CNBC.com report on employees and sick days.
Langerud is available to help current students and DePauw alumni plot their career paths. Visit DePauw's Office of Civic, Global and Professional Opportunities here.
Back