Plans in Place for 2011 Relay For Life, April 30-May 1
February 16, 2011
Also: 2011 Putnam County Relay For Life Information
February 16, 2011, Greencastle, Ind. — "DePauw seniors Tyler Archer and Roddrea Smith began the formal presentation" at yesterday's kick-off breakfast for the 2011 Putnam County Relay For Life, reports today's Banner-Graphic. "After a slideshow, Smith announced the national theme, 'Making a World with More Birthdays,' as well as the local Putnam County theme in relation to the national one, 'Superheroes to the Rescue.'" (photo courtesy Banner-Graphic)
The annual event -- which brings together the Putnam County and DePauw University communties for an event on the DePauw campus benefitting the American Cancer Society -- is set for April 30 - May 1 at Blackstock Stadium. Two Tuesday events formally launched the fundraising effort -- a breakfast at the Putnam Inn, and an evening get-together at DePauw's Memorial Student Union Building.
Michael Logli writes, "As of the evening event, there were 57 teams total. According to Rachel Romas, liason to the American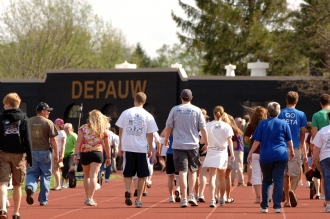 Cancer Society, the goal is to raise $157,500 and host 125 teams. Last year, the event raised $155,000 and hosted 112 teams."
Read the article at the newspaper's website and visit the official online page for Putnam County Relay For Life to learn more or register.
A video shot and edited by Ken Owen '82, executive director of media relations for DePauw, provides a glimpse at the opening of the 2010 event, which was moved indoors to DePauw's tennis and track center because of inclement weather:

[Download Video: "2010 Relay For Life Video" - 6003kb] or via YouTube.
Back