Barbara Kingsolver '77 to Receive LEAF Award for Lifetime Environmental Achievement
February 18, 2011
February 18, 2011, Greencastle, Ind. — Barbara Kingsolver, the critically acclaimed best-selling author and 1977 graduate of DePauw University, will be the 2011 recipient of the LEAF Award for Lifetime Environmental Achievement in the Fine Arts. Kingsolver will receive the honor from Duke University's Nicholas School of the Environment April 9.
"The award was established in 2009 to honor artists whose works have lifted the human spirit by conveying our profound spiritual and material connection to the Earth, thereby inspiring others to help forge a more sustainable life for all," notes an announcement. "Actor Robert Redford received the inaugural award." Singer-songwriter Jackson Browne was the 2010 honoree.
Kingsolver's books include The Poisonwood Bible; The Bean Trees; Animal, Vegetable, Miracle: A Year of Food Life; and The Lacuna, which received the UK's Orange Prize and the Library of Virginia's 13th Annual Library of Virginia Literary Award for fiction.
"Barbara Kingsolver's work occupies a unique and important place in the world of literature," says Nicholas School Dean William L. Chameides. "Her ability to interweave themes of human struggle and the search for meaning with the larger, timeless drama of life and death in the natural world, remind us that we are but one facet of a complex, and extraordinary planetary system, a system whose trajectory will ultimately determine our own fate and thus one which we must value and steward."
The environmental themes present in Kingsolver's work, and her long support and advocacy of environmental programs, led to her selection for the award, says Chameides.
"Barbara Kingsolver grew up in rural Kentucky. She earned degrees in biology from DePauw University and the University of Arizona, and has worked as a freelance writer and author since 1985," Duke notes. "Her books have been translated into more than two dozen languages, and have been adopted into the core literature curriculum in high schools and colleges throughout the nation. In 1998 she established the Bellwether Prize for fiction. She was awarded the National Humanities Medal, our country's highest honor for service through the arts, in 2000. Kingsolver was named one the most important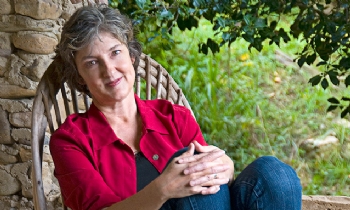 writers of the 20th Century by Writers Digest. Critical acclaim for her books includes multiple awards from the American Booksellers Association and the American Library Association, among many others."
Read more here.
Kingsolver delivered the 1994 commencement address at DePauw, and was also awarded an honorary degree during the ceremony. A summary of her speech can be found in this previous story or listen to an MP3 of the complete address:

[Download Audio: "Barbara Kingsolver's 1994 Commencement Speech" - 10,044kb].
Back